GETTING STARTED | WINE NOTES | SEARCH SITE | DISCUSSION FORUMS | 30 SECOND WINE ADVISOR | CONTACT US
<!TODAY'S TEXT STARTS HERE!>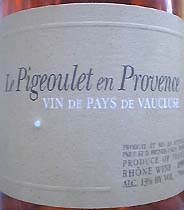 Le Pigeoulet en Provence 1998 Vin de Pays de Vaucluse ($9.99)
Clear, pale pink, an attractive rose-petal color. Crisp herbal aromas, leafy and green, with fresh cherries and mixed berries providing fruit. Full, crisp and dry, flavors follow the nose. A good dry rosée in the Provence style, and a revelation to anyone who thinks "pink" necessarily means "bland" when it comes to wine. U.S. importer: Kermit Lynch Wine Merchant, Berkeley, Calif. (Aug. 30, 1999)
FOOD MATCH: Good match with a risotto-like dish of orzo with collards and smoked turkey-duck sausage.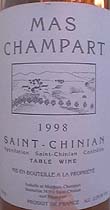 Mas Champart 1998 Saint-Chinian Rosé ($11.99)
Very pale salmon color. Faint berrylike scent followed by a very dry and crisp flavor, light red fruit and a slightly bitter finish. Dry and crisp as a Southern French rosé ought to be. U.S. importer: Kermit Lynch Wine Merchant, Berkeley, Calif. (Sept. 1, 1999)
FOOD MATCH: Excellent with the leftover chicken bouillabaise featured in the notes below.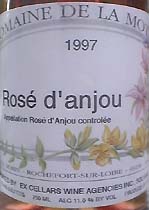 Domaine de la Motte 1997 Rosé d'Anjou ($5.99)
Clear salmon color. Light berries and leafy notes, very pleasant aroma; crisp and tart on the palate with a touch of fresh-fruit sweetness. A bit less structured and herbal than the two above, but a great summer quaff for a low-end price. U.S. importer: Ex Cellars Wine Agencies Inc., Solvang, Calif. (Aug. 29, 1999)
FOOD MATCH: A natural match with a chicken bouillabaisse full of the anise flavors of fresh fennel bulbs and pastis.

Have you tasted these wines?
E-mail me your tasting notes,
and I'll consider adding them to this page.
All my wine-tasting reports are consumer-oriented. In order to maintain objectivity and avoid conflicts of interest, I purchase all the wines I rate at my own expense in retail stores.
Back to Current Tasting Notes Index