GETTING STARTED | WINE NOTES | SEARCH SITE | DISCUSSION FORUMS | 30 SECOND WINE ADVISOR | CONTACT US
<!TODAY'S TEXT STARTS HERE!>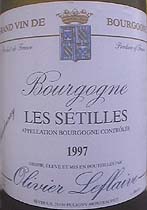 Olivier Leflaive 1997 Bourgogne Chardonnay "Les Setilles" ($14.99)
Light gold in color, with fresh, crisp apple scents and a tart, clean flavor, like biting into a fresh cooking apple. Simple and fresh, driven entirely by fruit and not by wood; characteristically French, although in my opinion the character comes as much from the wine maker's choices as the soil. U.S. importer: Frederick Wildman & Sons Ltd., NYC. (Aug. 27, 1999)

T-Vine 1997 Monterey County (California) Chardonnay ($16.99)
On the back label, wine maker Greg Brown jokes, "I like my wine the way I like my family and friends ... obnoxiously forward." This rare wine (only 480 cases made) isn't obnoxious, in my opinion, but it certainly is forward. Clear and straw-colored, its aroma is full of ripe tropical fruit: figs, dates, pineapples and most of all, papayas. Big, fat and off-dry, it's typically Californian and would never be mistaken for a white Burgundy; but to its credit, it marches to the tune of fruit and not of oak.
FOOD MATCH: Both wines worked well with a dinner entree explicitly fashioned to go with Chardonnay: Veal chops pan-grilled with a quick pan-reduction sauce of white wine, lemon and ginger and butter.

These wines were featured in The 30 Second Wine Advisor, my free weekly E-mail bulletin of quick wine tips, advice and tasting notes. Click here to join the E-mail list!

Have you tasted these wines?
E-mail me your tasting notes,
and I'll consider adding them to this page.
All my wine-tasting reports are consumer-oriented. In order to maintain objectivity and avoid conflicts of interest, I purchase all the wines I rate at my own expense in retail stores.
Back to Current Tasting Notes Index