GETTING STARTED | WINE NOTES | SEARCH SITE | DISCUSSION FORUMS | 30 SECOND WINE ADVISOR | CONTACT US
<!TODAY'S TEXT STARTS HERE!>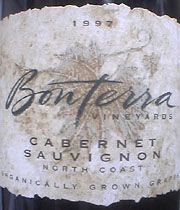 Bonterra Vineyards 1997 North Coast Cabernet Sauvignon ($15.99)
Launched as a division of Fetzer, Mendocino-based Bonterra appears to have de-emphasized its connection with its corporate parent, perhaps a logical move for a business that positions itself as a maker of wines made from certified organically grown grapes (from licensed vineyards that avoid the use of pesticides, herbicides or synthetically produced fertilizers) and produced without the use of added sulfites. (Diagnosed asthmatics should note with caution, however, that all wines, including these, contain naturally occurring sulfites.)
I'm not persuaded by organic wines, frankly. With the possible exception of the most industrial-style mass-market wineries, few fine-wine producers represent the kind of amoral agribusiness that presents a threat to the environment or the consumer. Scratch most wine makers and you'll find farmers who understand their debt to the soil. Accordingly, I don't worry about looking for "organic" wines or recommending them to readers.
But all that being said, Bonterra's 1997 Cabernet Sauvignon passes a more important test: It tastes good. In fact, it tastes very good indeed. Dark garnet in color, it breathes blackcurrant and cedar aromas and a floral hint of roses, and it offers ripe, fresh-fruit flavors consistent with the nose, well balanced and structured with firm acidity and soft tannins. Organic, shmorganic, it's a quality Cabernet at a price that's fair.
FOOD MATCH: A fine match with char-grilled flank steak marinated in red wine with garlic and fresh tomatoes and sauced with a quick pan reduction of the marinade.

WEBSITE: www.bonterra.com/
Have you tasted this wine?
E-mail me your tasting notes,
and I'll consider adding them to this page.
All my wine-tasting reports are consumer-oriented. In order to maintain objectivity and avoid conflicts of interest, I purchase all the wines I rate at my own expense in retail stores.
Back to Current Tasting Notes Index