<!TODAY'S TEXT STARTS HERE!>

Two Pinot Noirs that miss the mark

I'm almost reluctant to use such a negative subject, as neither of these Pinot Noirs is actively unpleasant or even not worth drinking. But in a variety as noble as Pinot Noir - and in particular one that bears the mighty name of Burgundy - I came away from both these wines feeling some sense of disappointment in their unrealized potential. So I present these notes with the assurance that they're decent drinking, while also feeling a bit of sadness that they didn't show me more.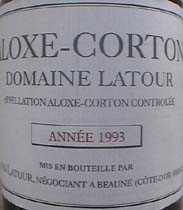 Louis Latour 1993 Aloxe-Corton ($21.99)
Clear, dark ruby, with pleasant red-fruit and spice aromas. Fresh, crisp cherry-berry fruit aromas and flavors with hints of cinnamon and cloves. A little oaky for a Burgundy and a bit simple, with a texture more like cotton than the traditional Burgundian velvet. Not a bad wine, but it demostrates the unfortunate reality that the $20-$25 range, pricey country for most wine genres, isn't high enough to offer much hope for an interesting red Burgundy. U.S. importer: Chambers & Chambers, San Francisco. (Aug. 13, 1999)
FOOD MATCH: Mike Wolinski's outstanding recipe for king salmon poached with caramelized onions made a fine red-wine-with-fish match.

Gallo of Sonoma 1997 Russian River Valley Pinot Noir ($9.95)
The disappointing Burgundy made me curious how a $10 California Pinot would stand up, so we pulled the cork from this Gallo offering, a line that I've found generally reliable in its price range. Definitely in a different style than the Burgundy, this dark-garnet wine offers a hint of California Pinot character in the "cherry cola" style, backed by very plummy fruit on the nose and palate. Awfully fat and warm for a Pinot, it's good for quaffing (and went well with the salmon), but demonstrates another economic truism: There's not much hope for quality Pinot from anywhere for less than $10. (Aug. 13, 1999)


Have you tasted these wines?
E-mail me your tasting notes,
and I'll consider adding them to this page.

All my wine-tasting reports are consumer-oriented. In order to maintain objectivity and avoid conflicts of interest, I purchase all the wines I rate at my own expense in retail stores.