GETTING STARTED | WINE NOTES | SEARCH SITE | DISCUSSION FORUMS | 30 SECOND WINE ADVISOR | CONTACT US
<!TODAY'S TEXT STARTS HERE!>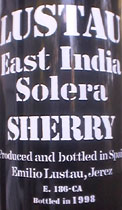 Lustau East India Solera Sherry ($16.99)
Clear, very dark mahogany color, with ripe and full aromas of prunes, walnuts and brown sugar. Intensely sweet in flavor, "stone" fruit with a tart, lemony acidic "grip" to provide structure. This wine is made by an idiosyncratic process (even for Sherry) that the wine maker likens to the sun and heat that casks of Sherry received when transported in casks on shipboard on the old India clippers; the process resembles that for Madeira, and this wine somewhat resembles a sweet Malmsey (Madeira) in its combination of sugary sweetness and piercing acidity. It's an unusual Sherry and a very enjoyable dessert wine. U.S. importer: Europvin USA, Emeryville, Calif. (Aug. 11, 2000)

Alvear's Amontillado Montilla ($8.99)
Although this is technically not a Sherry but a Montilla (because it comes from the city of that name rather than Jerez, the home of Sherry), even the most skilled connoisseur would be hard-pressed to discern any difference. After all, it was Montilla, not Jerez, that gave its name to "Amontillado," meaning "In the style or fashion of Montilla." Clear bright amber in color, it breathes light, appealing nutlike scents that evoke pecans first, then English walnuts. Full-bodied and quite dry, it shows only a faint fresh-fruit sweetness cloaked by zingy acidity. Nutty and delicate stone-fruit flavors follow the nose and persist in a long, clean finish. U.S. importer: Cutting Edge Selections Inc., Cincinnati. (Aug. 13, 2000)

FOOD MATCH: Sherries aren't often served as dinner wines. Sweet styles like the East India Solera are best enjoyed by themselves after dinner; dryer styles like Amontillado (and Fino) are traditional aperitifs, served for sipping before the meal. That being said, the Alvear's Amontillado went nicely with a light snack of extra-sharp Cheddar cheese and hazelnuts.

These wines were featured in The 30 Second Wine Advisor, my free weekly E-mail bulletin of quick wine tips, advice and tasting notes. Click here to join the E-mail list!

Have you tasted these wines?
E-mail me your tasting notes,
and I'll consider adding them to this page.

All my wine-tasting reports are consumer-oriented. In order to maintain objectivity and avoid conflicts of interest, I purchase all the wines I rate at my own expense in retail stores.

Back to Current Tasting Notes Index