<!TODAY'S TEXT STARTS HERE!>

Pinot Gris and Pinot Grigio


Pinot Gris or Pinot Grigio? It's actually the same grape, with slightly different names in different languages. Said to be a mutant of Pinot Noir, it's literally a grayish-colored white grape that may seem grayish-pink to grayish-blue, and shows its kinship with a great red grape not only in its faded hue but, more important for wine lovers, with a potential intensity of flavor that you won't always find in white wines. Pinot Gris often makes an exceptional accompaniment to seafood, although the Alsatian version tasted here is just intense enough to overshadow most dishes, making it a good selection for a summer aperitif.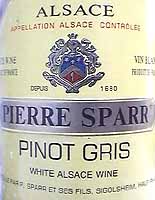 Pierre Sparr 1995 "Carte d'Or" Alsace Pinot Gris ($11.99)
Clear, bright greenish-gold. Potent musky melon and mint aromas. Full, rich, tart, almost unctuous mouthfeel, typical of Alsace; makes it a better wine for sipping than for serving with food, as its body and intensity tend to overwhelm most dishes. U.S. importer: Commandeur Corp., Minneapolis. (Aug. 12, 1998)
FOOD MATCH: Workable with spicy chicken over rice with fresh tomatoes, but as noted, Alsatian whites tend to overshadow the food they're served with.
La Cadalora 1995 Pinot Grigio Vallagarina White Table Wine ($8.99)
Clear, pale greenish-gold. Canteloupe, figs and dates, appetizing fruit scents. Full, juicy and bright flavors, crisp and dry, with sufficient acidity for structure. Simple, a little short, but a good quaff and a good seafood wine. U.S. importer: Vintner Select, Cincinnati; a Marc de Grazia Selection. (Aug. 11, 1998)
FOOD MATCH: Fine with linguine in white clam sauce.
Have you tasted these wines?
E-mail me your tasting notes,
and I'll consider adding them to this page.
All my wine-tasting reports are consumer-oriented. In order to maintain objectivity and avoid conflicts of interest, I purchase all the wines I rate at my own expense in retail stores.