<!TODAY'S TEXT STARTS HERE!>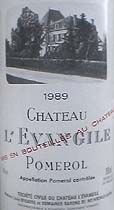 Chateau l'Evangile 1989 Pomerol ($70 in 1996)
With my focus on affordable wines of value, I rarely report on items at this price level ... but the celebration of our tenth wedding anniversary last week justified opening the last of a small stash of this luxury item made in our anniversary year. Given less than perfect storage conditions, I think it's just as well that we didn't wait any longer. It's still fine, but I'm afraid one more Ohio Valley summer might have done it in. Dark garnet in color, becoming amber at the edge, it shows ripe and intense black fruit aromas, but in this bottle at least, an earthiness that I last described (on July 31, 1998) as "light, pleasant leathery notes" has now evolved into the distinct "barnyard" and "horsey" aromas that suggest the presence of the wild yeast brettanomyces. Ripe and juicy fruit flavors are consistent with the nose, with crisp acidity, little evidence of remaining tannins, and pleasant but substantial "barnyard" elements lingering in the finish. U.S. importer: Classic Wine Imports Inc., Boston. (Aug. 11, 1999)

FOOD MATCH: Fine with a classic Bordeaux accompaniment, lamb chops pan-grilled with rosemary and garlic.

This wine was featured in The 30 Second Wine Advisor, my free weekly E-mail bulletin of quick wine tips, advice and tasting notes. Click here to join the E-mail list!

Have you tasted this wine?
E-mail me your tasting notes,
and I'll consider adding them to this page.
All my wine-tasting reports are consumer-oriented. In order to maintain objectivity and avoid conflicts of interest, I purchase all the wines I rate at my own expense in retail stores.