<!TODAY'S TEXT STARTS HERE!>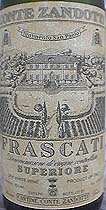 Conte Zandotti 1997 Frascati Superiore ($8.99)
Clear pale gold, with simple citric and dry-straw aromas. Crisp, fresh but rather neutral white fruit and zippy acidity come together in a palatable if forgettable wine that's good for washing down food. U.S. importer: Pellegrini Vineyards, South San Francisco, Calif. (Aug. 5, 1999)

FOOD MATCH: In a not-too-surprising cross-cultural match, this wine went very nicely with a Cantonese stir-fry of chicken and ginger with lemon wedges.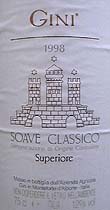 Gini 1998 Soave Classico Superiore ($10.99)
Clear straw color. Light melon and fresh hay aromas, simple but fresh. Tart citric and herbal flavors, opens up with warming and airing in the glass to mixed nuts, herbs and white fruit. U.S. importer: Vintner Select, Cincinnati; a Marc de Grazia Selection (Aug. 3, 1999)
FOOD MATCH: Both Soaves made a reasonable ethnic match with a family favorite, ossobuco bianco, veal shanks long-braised in white wine and finished with a gremolata of lemon peel, parsley and garlic.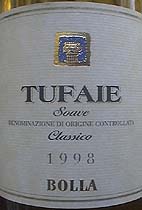 Bolla 1998 "Tufaie" Soave Classico ($10.99)
Light straw color, with faint white-fruit aromas and a crisp, rather neutral flavor leading into a marked bitter-almond finish. Gains a bit of a honeyed quality with time in the glass but remains quite simple; not flawed but inoffensive. U.S. importer: Brown-Forman Beverages Worldwide, Louisville (Aug. 3, 1999)

Have you tasted these wines?
E-mail me your tasting notes,
and I'll consider adding them to this page.
All my wine-tasting reports are consumer-oriented. In order to maintain objectivity and avoid conflicts of interest, I purchase all the wines I rate at my own expense in retail stores.