<!TODAY'S TEXT STARTS HERE!>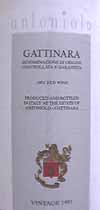 Antoniolo 1991 Gattinara ($16.99)
Clear but dark ruby. Delicious red-fruit and floral scents with a counterpoint of spicy oak. A big mouthful of wine, "chewy" and full; juicy fruit and lemony acidity, with tannins becoming more perceptible in a long finish. Seems much more youthful than you'd expect of a '91, very good now but could use still more cellar time. U.S. importer: Vintner Select, Cincinnati. (Aug. 5, 1998)

FOOD MATCH: Fine with veal chops with lemon and a quick fresh-tomato sauce.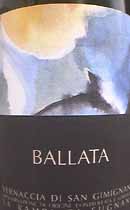 Ballata 1996 Vernaccia di San Gimignano ($14.99)
Clear, pale straw color; tiny bubbles line the glass. Pleasant musky melon and mint aromas lead into a crisp, tart fruit flavor; a sharp acidic edge makes it a good seafood match. A light, pleasant bitterness appears in a long finish. U.S. importer: Elizabeth Imports, Denver. (Aug. 3, 1998)
FOOD MATCH: Cantonese shrimp with lobster sauce.

Ottosanti 1995 Chianti Classico ($6.99)
Dark ruby with a foamy quality that coats the glass with a clear, granular sediment like tartrate crystals. Spicy oak aromas are dominant over typical Chianti black-cherry fruit. Full, juicy and bright, black fruit and lemon-tart acidity, better on the palate than the appearance or nose suggest. A bit rough, but works well at the table with a flavorful entree, and hard to fault for the low-end price. U.S. importer: Francis A. Bonanno Inc., Springboro, Ohio. (Aug. 4, 1998)
FOOD MATCH: A Thai-style beef and cabbage salad with mildly peppery fire actually improves the wine.
Castelvero 1996 Barbera d'Asti ($7.99)
Dark ruby color. Spicy oak overwhelms black fruit on the nose. Tannic and tart as sour lemons over simple fruit flavors. Stands up to food, but a bit awkward, sour fruit juice lacking balance. U.S. importer: Vias Imports Ltd., NYC. (Aug. 2, 1998)
FOOD MATCH: OK with grilled chicken with a light Tex-Mex sauce.
Have you tasted these wines?
E-mail me your tasting notes,
and I'll consider adding them to this page.
All my wine-tasting reports are consumer-oriented. In order to maintain objectivity and avoid conflicts of interest, I purchase all the wines I rate at my own expense in retail stores.