<!TODAY'S TEXT STARTS HERE!>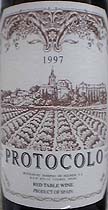 Dominio de Eguren 1997 Protocolo (Spain) Red Table Wine ($5.99)
At US$6, this generic Spanish red from a respected Rioja producer may be one of the cheapest "good" wines currently available. Very dark reddish-purple in color, it offers a ripe, fresh strawberry aroma leading into bright and juicy berry fruit flavors backed by lemon-squirt acidity and a whiff of fragrant black pepper. Quaffable and quenching, it may not be a "classy" wine, but it shows structure and balance surprising for the price. U.S. importer: Associated Wine Distributors, American Canyon, Calif. (July 25, 1999)

FOOD MATCH: A spicy multi-ethnic risotto of Thai sausage and collard greens goes surprisingly well with this simple, hearty red.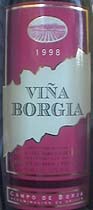 Viña Borgia 1998 Campo de Borja ($4.99)
Dark garnet, with ripe berry fruit and black pepper in its ripe and forward aroma. A big blast of red-fruit flavor, almost soft and sweet on first impression, but it firms up with crisp acidity in the finish. A simple, fruity wine, but far from boring, a characteristic that makes it a standout at this low-end price. U.S. importer: Cutting Edge Selections, Cincinnati (Aug. 2, 1999)

FOOD MATCH: Fine with a simple shepherd's pie made with leftover steak and mashed potatoes with Mexican farmer cheese and a whiff of ancho chiles.

The Protocolo was featured in The 30 Second Wine Advisor, my free weekly E-mail bulletin of quick wine tips, advice and tasting notes. Click here to join the E-mail list!

Have you tasted these wines?
E-mail me your tasting notes,
and I'll consider adding them to this page.

All my wine-tasting reports are consumer-oriented. In order to maintain objectivity and avoid conflicts of interest, I purchase all the wines I rate at my own expense in retail stores.