<!TODAY'S TEXT STARTS HERE!>

A Primitivo and a Verdicchio


Two modest but pleasant Italian wines make up today's tasting report. Primitivo, long described as the likely ancestor of Zinfandel, is now thought more likely to be its brother, both grapes likely being descended from the same Croatian progenitor and perhaps brought over both to Southern Italy and the Western U.S. during the 19th century. This one's an intriguing, aromatic wine, but I certainly don't find it Zin-like. Verdicchio gets little respect because it's usually associated with a cheap product in a fish-shaped bottle. This rendition, however, is a little more serious, and still a fine value.

Cantele 1996 Salento Primitivo ($7.99)
Very dark ruby color, with odd smoky, black-cherry, caramel and heady funeral-wreath floral aromas, remarkable and complex if thoroughly idiosyncratic. Soft, juicy fruit flavor, a little light on the acid side for best balance. Fair value at this single-digit price. U.S. importer: Vias Imports Ltd., NYC. (July 29, 1998)
FOOD MATCH: Works surprisingly well with a light Thai-style beef salad, thanks to its wild aromatics and easy-to-quaff style.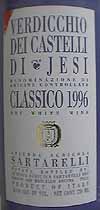 Sartarelli 1996 Verdicchio dei Castelli di Jesi Classico ($8.99)
Clear light gold. Light, pleasant cantaloupe scent and a bright, fresh and juicy flavor. Slight fresh-fruit sweetness is offset by balancing acidity, with pleasant bitter-almond and just off-dry white fruit in a long finish. Refreshing wine for summer sipping. U.S. importer: Vias Imports Ltd., NYC. (July 28, 1998)
FOOD MATCH: Its off-dry, quenching nature makes it a particularly good match with a slightly hot-and-spicy shrimp gumbo.

Have you tasted these wines?
E-mail me your tasting notes,
and I'll consider adding them to this page.
All my wine-tasting reports are consumer-oriented. In order to maintain objectivity and avoid conflicts of interest, I purchase all the wines I rate at my own expense in retail stores.