GETTING STARTED | WINE NOTES | SEARCH SITE | DISCUSSION FORUMS | 30 SECOND WINE ADVISOR | CONTACT US
<!TODAY'S TEXT STARTS HERE!>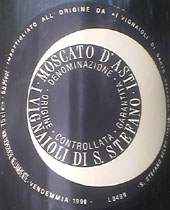 Vignaioli di Santo Stefano 1999 Moscato d'Asti ($15.99)
Like the La Spinetta 1999 Vigneto Biancospino Moscato d'Asti I tasted late in May, this delicious Moscato d'Asti is light, low alcohol, fizzy and freshly sweet ... just the thing for sipping on a hot summer's day. Its fat but standard cork (not a Champagne-type cork) comes out with a soft pop, pouring a clear straw-colored wine with a frothy mousse and surprisingly lasting carbonation akin to a sparkling wine. Fresh, light peach aromas are characteristic Moscato, as are its sweet and fresh flavors well balanced by crisp but not tart fresh-fruit acidity. U.S. importer: Cliquot Inc., NYC. (July 26, 2000)
NUTRITIONAL ANALYSIS: Because this wine is so low in alcohol (5.5%) that it doesn't meet the U.S. government's definition of "wine," it falls unlike most wines under regulations that require nutritional labeling, giving us an uncommon look at its makeup. According to the back label, one 5-ounce serving (five per bottle) contains no fat, no sodium, 137 calories, 18.3 grams of sugars and 21.5 grams total carbohydrate. (Note that these numbers are substantially different from most wines, since this wine is far lower in alcohol but much more sweet than everyday table wine.)
FOOD MATCH: Meant for casual sipping, but its carbonation and fresh-fruit sweetness made it an unexpectedly good match with spicy Mexican beef tamales.

Have you tasted this wine?
E-mail me your tasting notes,
and I'll consider adding them to this page.
All my wine-tasting reports are consumer-oriented. In order to maintain objectivity and avoid conflicts of interest, I purchase all the wines I rate at my own expense in retail stores.
Back to Current Tasting Notes Index