<!TODAY'S TEXT STARTS HERE!>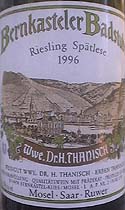 Dr. H. Thanisch 1996 Bernkasteler Badstube (Mosel-Saar-Ruwer) Riesling Spätlese ($16.99)
Very light gold, typically light in color for a Mosel. Musky, pleasantly pungent "conifer" aromas and green apples. Sweet and tart in flavor, apple juice on a structure of steel. Sweet at first tasting, it dries out in the mouth to finish with a citric tang. At only 8 percent alcohol, it's light, crisp and refreshing. U.S. importer: Valckenberg International Inc., Tulsa, Okla. (July 25, 1999)

FOOD MATCH: A light summer dinner of a "hye roller," cracker bread rolled around smoked salmon and dill cream cheese, makes a surprisingly good match; the wine's zingy acidity marries beautifully with the salmon, and its herbal notes seem to bring up the fresh flavor of the dill.

Weingut Peter Lauer 1993 Ayler Kupp (Mosel-Saar-Ruwer) Riesling Kabinett ($12.99)
Watery pale in color, this wine breathes scents of honey and "slate," a pleasant, evocative mineral aroma that reminds me of wet rocks after a summer rain. Crisp and nearly dry, much less obviously sweet than the Spätlese, with a distinct note of "petrol," an odd, unexpectedly appealing quality often found in older Rieslings, all built on that steely acidic backbone that's characteristic of the Mosel and especially the Saar. And as is typical of Mosel Rieslings, it's showing little evidence of age and none of deterioration six years after the vintage. U.S. importer: Willett Distributing Inc., Alexandria, Ky. (July 25, 1999)
FOOD MATCH: Washes down the salmon-cream-cheese snack well enough, but this drier and even more acidic wine doesn't make quite the perfect match that the first wine did.

These wines were featured in The 30 Second Wine Advisor, my free weekly E-mail bulletin of quick wine tips, advice and tasting notes. Click here to join the E-mail list!

Have you tasted these wines?
E-mail me your tasting notes,
and I'll consider adding them to this page.
All my wine-tasting reports are consumer-oriented. In order to maintain objectivity and avoid conflicts of interest, I purchase all the wines I rate at my own expense in retail stores.