<!TODAY'S TEXT STARTS HERE!>

Aging wine without a cellar


While the conventional wisdom holds that it's best to cellar ageworthy wines at a constant controlled temperature around 55F (13C), it's certainly possible to enjoy wines with a few years of maturity even if you don't have an underground cellar or free-standing wine cooling unit. As long as you take care to store your wines on their sides in the coolest environment available to you -- an air-conditioned room or basement, for example, avoiding hot and high-traffic areas like the kitchen -- you can safely hold cellarworthy reds for as long as five years or more.

The Rioja rated below, for example, was purchased 2 1/2 years ago and survived two Ohio Valley summers in which its temperature may have reached 80F or above -- decidedly not recommended as ideal storage conditions. Even so, it remains in fine condition, and when I compare my notes to a twin bottle sampled in January 1996, when the wine was new, it seems to have matured well and to have plenty of life remaining.

Purchasing older wines at the retailer, where their storage history is completely unknown, is more of a gamble. But the Vouvray rated below withstood its checkered past well and was an absolute delight, demonstrating again that good wines, more often than not, hold up better than we think they might.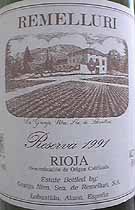 Remelluri 1991 Rioja Reserva ($10.99 in January 1996)
Clear dark ruby, still clear at the edge. Red-fruit aromas and notes of spice. Full-bodied and ripe, full of that delicious mature Rioja "sweetness." The tannins are gone, but there's plenty of lemony acidity to give it balance and structure. Delicious. U.S. importer: Willett Distributing Inc., Alexandria, Ky. (July 22, 1998)
FOOD MATCH: Lamb kibbeh, a Middle Eastern dish specifically chosen because I hoped its aromatic flavors of allspice and cinnamon would work well with the Rioja.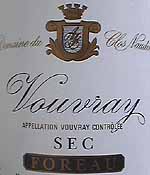 Foreau 1993 Vouvray Sec ($15.99)
Clear gold color. Musky melon, mint and subtle earthy and mineral scents, complex and appealing. Full, crisp and bright flavors, juicy white fruit with overtones that follow the nose. A touch of fresh fruit sweetness well balanced by earthy "chalk" and steely acidity. Clean and consistent in a very long finish. Excellent wine! U.S. importer: Willett Distributing Inc., Alexandria, Ky. (July 24, 1998)
FOOD MATCH: Designed a quick, light summer dinner of pan-grilled turkey scalloppine topped with double Gloucester cheese; a fine match.

Have you tasted these wines?
E-mail me your tasting notes,
and I'll consider adding them to this page.
All my wine-tasting reports are consumer-oriented. In order to maintain objectivity and avoid conflicts of interest, I purchase all the wines I rate at my own expense in retail stores.