GETTING STARTED | WINE NOTES | SEARCH SITE | DISCUSSION FORUMS | 30 SECOND WINE ADVISOR | CONTACT US

<!TODAY'S TEXT STARTS HERE!>

An odd couple of reds

For no special reason, I thought it would be fun to pair these two reds - a Valpolicella that I had enjoyed very much in prior vintages and a cooperative-produced, low-end Pinotage - in a "blind" tasting, not knowing which was which. It didn't turn out to be hard to tell them apart, with their overall quality relating reasonably well with the difference in price.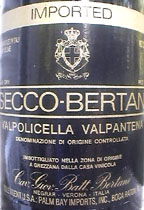 Secco-Bertani 1997 Valpolicella Valpantena ($12.49)
Clear, dark garnet, with a ripe aroma of dark, warm black fruits, plums and raisins. Is it a ripasso Valpolicella, fermented on the skins of the last year's Amarone? The label doesn't say so, but from the aroma I'd say it's a fair guess. Deep and rich flavors, tart-cherry fruit, lemons and a pleasing whiff of bitter almond. U.S. importer: Palm Bay Imports Inc., Boca Raton, Fla. (July 14, 2000)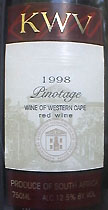 KWV 1997 Western Cape (South Africa) Pinotage ($8.99)
Slightly hazy ruby color. Aromatic and earthy aromas with an estery edge of acetone or even, I hate to say it, varnish, not especially appetizing although, as often happens with Pinotage, the sharper edges blow off with time in the glass. Soft and juicy fruit flavors, apple-skin and plums, much better on the palate than the nose. U.S. importer: Wine Distributors Inc., San Francisco. (July 14, 2000)
FOOD MATCH: Both work well with a char-grilled T-bone and grilled vegetables.

Have you tasted these wines?
E-mail me your tasting notes,
and I'll consider adding them to this page.
All my wine-tasting reports are consumer-oriented. In order to maintain objectivity and avoid conflicts of interest, I purchase all the wines I rate at my own expense in retail stores.
Back to Current Tasting Notes Index