<!TODAY'S TEXT STARTS HERE!>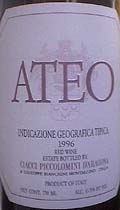 Ciacci Piccolomini d'Aragona 1996 Ateo ($22.99)
Named "The Atheist" not for religious reasons but as a tongue-in-cheek dig at the strict Italian wine laws, this blend of 90 percent Sangiovese and 10 percent Cabernet Sauvignon must be sold as a "red table wine" because it doesn't meet the grape-variety requirements for its region. Like many other Tuscan "table wines," however, it may just be the better for it, and although it's not a cheap wine, its price is low-end for the genre and makes it a very good buy. Dark reddish-purple in color, it offers generous black fruit and spicy oak aromas that lead into sweet oak and ripe fruit flavors, mouth-filling and jammy, well structured with lemon-tart acidity and marked but accessible tannins. A little gangly and awkward now, it comes into perspective with rare red meat and shows real promise for improvement with time. U.S. importer: Vintner Select, Cincinnati; a Marc de Grazia Selection. (July 13, 1999)

FOOD MATCH: Fine with a pepper-crusted grilled T-bone.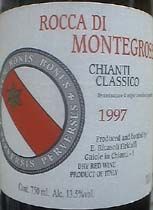 Rocca di Montegrossi 1997 Chianti Classico ($14.99)
Dark garnet. Somewhat dank oak aromas and caramel fight for dominance with simple black fruit, with the fruit becoming more evidently only after a little breathing time. Better on the palate, with ripe and juicy black fruit and lemon-squirt acidity coming together to make a good food wine. U.S. importer: Vintner Select, Cincinnati; a Marc de Grazia Selection. (July 12, 1999)
FOOD MATCH: The wine's better with a char-grilled duck than alone, with its tart acidity cutting through the fattiness of the duck, and the earthy flavors of the wine and the bird making a happy marriage.

Monte Antico 1995 Red Tuscan Table Wine ($8.99)
My second tasting of this bargain-basement red in recent months, the first being an "import" from Boston, this one from a supply that finally reached here last month. Findings are consistent: Dark ruby, with spicy oak and good cherry-berry aromas, bright and juicy fruit flavors shaped by tart acidity. Simple, but a good quaff and good food wine. U.S. importer: Empson (USA) Inc., Alexandria, Va. (July 14, 1999)
FOOD MATCH: Should have gone reasonably well with a vegetarian dish of sauteed tempeh (and Indonesian processed soybean cake), but a little too much lime juice in its marinate made the entree an iffy wine match.

Have you tasted these wines?
E-mail me your tasting notes,
and I'll consider adding them to this page.
All my wine-tasting reports are consumer-oriented. In order to maintain objectivity and avoid conflicts of interest, I purchase all the wines I rate at my own expense in retail stores.