<!TODAY'S TEXT STARTS HERE!>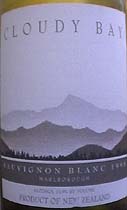 Cloudy Bay 1998 Marlborough (New Zealand) Sauvignon Blanc ($17.99)
Clear, pale straw color, with faint green-pea and pleasant citric aromas. Full, ripe fruit, citric and crisp; a good, "international-style" Sauvignon Blanc, scores well on points, but lacking the wild "green" character of previous Cloudy Bay vintages makes it a bit of a disappointment to me. To be frank, I wouldn't buy another at this price, but I loaded up on '97 at the same price. U.S. importer: Cliquot Inc., NYC. (July 7, 1999)

FOOD MATCH: The wine's crisp citric flavors marry well with alder-smoked salmon sliced over new potatoes cooked with onions and butter. In the arcane world of wine-vegetable matches, it's also a natural with fresh buttered garden peas.


Cloudy Bay 1997 Marlborough (New Zealand) Sauvignon Blanc ($17.99)
Even though an additional year in the bottle has somewhat muted the flavors of this goodie (in contrast with my report almost exactly one year ago), it's still much more distinctive in character: Pale-straw color, with green aromas - green olive, green pepper, even green bean. The aromas carry over to the palate; it's not better than the '98, but it's surely different. It's shed most of the jalapeño and green-chile flavors that made it a knockout last year, but I still prefer it. (July 7, 1999)

FOOD MATCH: Also fine with the salmon dish and peas mentioned above.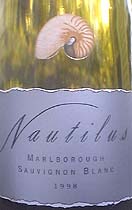 Nautilus 1998 Marlborough Sauvignon Blanc ($12.99)
Offering still more testimony toward the uncharacteristic style of 1998 Marlborough Sauvignons, this attractive wine in a pretty bottle shows a clear brass color and light but appealing citric aromas, lemon-lime and a whiff of mint. Full, bright and snappy, dry and tart flavors follow the nose. International in style, I might not guess it's a New Zealand wine in a blind tasting, but it's a delicious, refreshing wine, excellent with seafood, and frankly -- this year, at least -- a much better buy than the Cloudy Bay. U.S. importer: Negociants USA Inc., Napa, Calif. (July 6, 1999)

FOOD MATCH: Hits the spot with alder-smoked salmon over an exotic pasta choice, Sardinian freula.


Have you tasted these wines?
E-mail me your tasting notes,
and I'll consider adding them to this page.

All my wine-tasting reports are consumer-oriented. In order to maintain objectivity and avoid conflicts of interest, I purchase all the wines I rate at my own expense in retail stores.