GETTING STARTED | WINE NOTES | SEARCH SITE | DISCUSSION FORUMS | 30 SECOND WINE ADVISOR | CONTACT US
<!TODAY'S TEXT STARTS HERE!>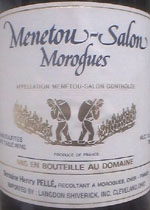 Henry Pellé 1995 Menetou-Salon Morogues ($6.64)
This Loire Pinot Noir from a relatively obscure Menetou-Salon appellation (near Sancerre) is the first I've seen locally, but it seems to have all the right breeding: Both Oxford Wine Companion and Le Guide Hachette du Vins 2000 speak well of the producer (Pellé) and the village (Morogues). So why the low price? Perhaps because it's five years old, against the conventional wisdom that these light reds are best drunk fresh? Or maybe it was in the bargain bin because nobody around here knows what it is. Be that as it may, I'm impressed, and at this price may go back for more.
It's a clear garnet color, not much darker than a dark rosé. It shows rather vegetal green-tomato aromas over vinous red fruit at first, and hits the palate with a lean and herbal first impression; but a little time in the glass sees the nose add pleasant spicy notes of cinnamon and cloves, and the flavor develops full, almost plush red fruit with plenty of lemony acidity to give it structure. Very nice wine, especially for the price. U.S. importer: Langdon Shiverick Inc., Cleveland. (July 5, 2000)
FOOD MATCH: An excellent match with brined pork chops in a Marcella Hazan preparation, braised in red wine and Marsala (actually, Sherry substituted for Marsala) with fennel seed.

Have you tasted this wine?
E-mail me your tasting notes,
and I'll consider adding them to this page.
All my wine-tasting reports are consumer-oriented. In order to maintain objectivity and avoid conflicts of interest, I purchase all the wines I rate at my own expense in retail stores.
Back to Current Tasting Notes Index