GETTING STARTED | WINE NOTES | SEARCH SITE | DISCUSSION FORUMS | 30 SECOND WINE ADVISOR | CONTACT US
<!TODAY'S TEXT STARTS HERE!>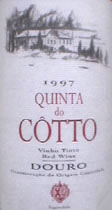 Quinta do Cotto 1997 Couro Vinho Tinto ($12.99)
Inky dark-purple color, with ripe black fruit aromas shaded by an earthy hint of leather. Big, brawny flavors, plummy fruit and tart acidity in good balance. A bit "rustic," to be sure, but a good mouthful of wine and a good table wine that seems to have affinity with a wide range of food. U.S. importer: World Shippers & Importers, Philadelphia. (July 4, 2000)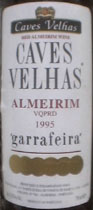 Caves Velhos Almeirim Garrafeira ($10.99)
Light blueberry and spicy oak aromas. Fresh and juicy on the palate, a bit lightweight. You might call it "Beaujolais-style," but frankly, I'd just as soon have a Beaujolais. U.S. importer: World Shippers & Importers, Philadelphia. (July 4, 2000)
FOOD MATCH: Both the above went reasonably well with a simple cinnamon-scented rice pilaf with chicken, toasted almonds and pine nuts.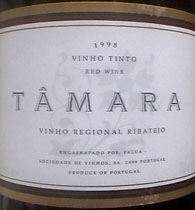 Tâmara 1998 Vinho Regional Ribatejo Vinho Tinto ($5.99)
Clear, dark cherry-red, with blueberries and odd, not unpleasant damp-laundry aromas. Soft and juicy fruit flavor at first, but a lemony acidic snap builds in the finish. Simple, fresh, a decent food wine. U.S. importer: Kysela Pere et Fils Ltd., Winchester, Va. (July 5, 2000)
FOOD MATCH: Fares well with pork chops.

These wines were featured in The 30 Second Wine Advisor, my free weekly E-mail bulletin of quick wine tips, advice and tasting notes. Click here to join the E-mail list!

Have you tasted these wines?
E-mail me your tasting notes,
and I'll consider adding them to this page.
All my wine-tasting reports are consumer-oriented. In order to maintain objectivity and avoid conflicts of interest, I purchase all the wines I rate at my own expense in retail stores.
Back to Current Tasting Notes Index