GETTING STARTED | WINE NOTES | SEARCH SITE | DISCUSSION FORUMS | 30 SECOND WINE ADVISOR | CONTACT US
<!TODAY'S TEXT STARTS HERE!>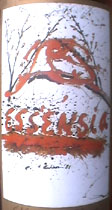 Andrew Quady 1997 Essensia California Orange Muscat Sweet Dessert Wine ($13.79)
Clear bright amber color, with a delicious and heady scent of fresh juice oranges, this fresh, appealing dessert wine follows through with a tart-sweet, intense bitter-orange flavor structured by crisp, bracing acidity. What it may lack in complexity, it makes up in exuberance: It's a fine, affordable sweet wine, well suited for dessert or brunch.
FOOD MATCH: Personally, I prefer dessert wines AS dessert rather than WITH dessert, but this one would do nicely with fruit or caramelized-sugar desserts like creme caramel or creme brulee.

This wine was featured in The 30 Second Wine Advisor, my free weekly E-mail bulletin of quick wine tips, advice and tasting notes. Click here to join the E-mail list!

Have you tasted this wine?
E-mail me your tasting notes,
and I'll consider adding them to this page.
All my wine-tasting reports are consumer-oriented. In order to maintain objectivity and avoid conflicts of interest, I purchase all the wines I rate at my own expense in retail stores.
Back to Current Tasting Notes Index