<!TODAY'S TEXT STARTS HERE!>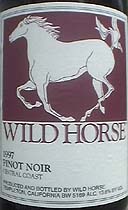 Wild Horse 1997 Central Coast Pinot Noir ($18.99)
Clear ruby color, with a marked cherry-cola scent leading into ripe, juicy tart-cherry flavors. Fruity, aromatic, seems a bit simple at first, but as Pinot Noir often does, it opens up to reveal increasing complexity as it airs in the glass. (July 1, 1999)

FOOD MATCH: An excellent match, as I had hoped, with duck breasts pan-grilled with garlic and star anise over a bed of quick-sauteed shredded cabbage and onions touched with five-spice.


King Estate 1996 Oregon Pinot Noir ($15.99)
Clear bright ruby. Aromatic red-fruit and spice on the nose backed by a "vinous" edge of alcohol. Ripe tart-cherry fruit flavor and lemony acidity, mouth-filling and fresh; clean if not overlong. (June 9, 1999)

FOOD MATCH: Actually better with food than alone, a natural match with fresh Alaskan Copper River salmon, poached in wine with caramelized onions as in Mike Wolinski's excellent recipe on the Food Lovers' Discussion Group.


Have you tasted these wines?
E-mail me your tasting notes,
and I'll consider adding them to this page.

All my wine-tasting reports are consumer-oriented. In order to maintain objectivity and avoid conflicts of interest, I purchase all the wines I rate at my own expense in retail stores.