<!TODAY'S TEXT STARTS HERE!>

Hangin' at Judge Roy Bean's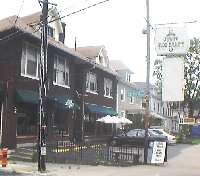 It looks like a neighborhood saloon, and the name suggests a kitschy Tex-Mex shtick. Actually, however, Judge Roy Bean's is not only one of Louisville's more interesting and eclectic eateries, it also has one of the most interesting wine lists in town, with a world-spanning list of more than 100 items, most under $40 and generally marked up no more than 1 1/2 times retail. For what it's worth, they've even scored one of the lower-level Wine Spectator winelist awards.

We dropped in last night and I spotted a 1992 Alion! For $30! In fact, it turned out to be the 1993, same price. Not a problem!

There's one left. Should we go back tonight?

Bodegas & Viñedos Alion Cosecha 1993 Ribera del Duero ($29.50/restaurant price)
Very dark reddish-purple, literally opaque. Warm, plummy fruit aromas with herbal notes of tarragon and a distinct edge of oaky vanilla. Full, fruity and bright, so much fruit that it almost seems sweet, with a good acidic structure to hold it together into a long finish. Imperceptible tannins, but it still seems young. U.S. importer: Europvin USA, Emeryville, Calif. (June 29, 1999)

FOOD MATCH: We chose the wine and then selected dishes to fit: Black bean cakes with a corn-black-bean relish and fresca salsa, a venison burger with chipotle aioli and a pan-grilled duck breast with an ancho demiglace all went nicely with the wine. A real treat!


Have you tasted this wine?
E-mail me your tasting notes,
and I'll consider adding them to this page.

All my wine-tasting reports are consumer-oriented. In order to maintain objectivity and avoid conflicts of interest, I purchase all the wines I rate at my own expense in retail stores.