<!TODAY'S TEXT STARTS HERE!>

Wines and friends in Boston


While it was business that brought me to Boston for a few days, I managed to find time for friends, and wine, during the evenings and over a long, summer weekend.
---
Thursday, June 25, 1998 - Dinner at Il Fiorentino
The wine glasses weren't exactly Riedel -- in fact, they were an odd and mismatched collection of tumblers, amber goblets and dime-store wine glasses that, I'm afraid, fell well short of the Wine Geek Seal of Approval.
But just about everything else at last night's Boston Offline was exceptional, from the cozy neighborhood atmosphere and excellent, huge portions of decent Italian food at Il Fiorentino in Woburn, Mass., to, especially, the fun and friendship enjoyed by our group of nine revelers, pictured clockwise around the table: Tim Harrigan, Tom Troiano, Mark Levesque, Deborah Lemon, Eden Stone, Les Peters and Phil "Pmac" MacDonald. Not pictured: Later arrival Thor Iverson and yours truly, who's behind the camera.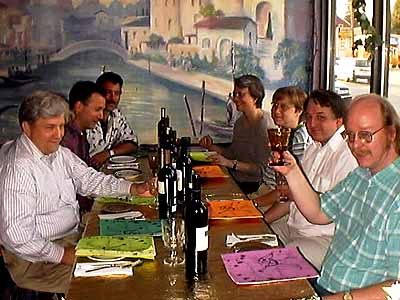 Subject (because of the glassware) to even more than the usual level of disclaimers about the validity of non-analytical notes taken in a social setting with food on the table, here are my observations about the 13 excellent wines that participants brought along:
Benito Ferrara Greco di Tufo - ('96? I didn't note the vintage) Clear straw color. Melons and herbal aromas, full, juicy and tart. Nice aperitif. U.S. importer: Classic Wine Imports Inc., Boston.
Amello 1996 "Carbonere" Moscato d'Asti - Very pale straw color, lightly carbonated. Light, pleasant grapefruit scent; sweet, fizzy and refreshing. U.S. importer: Elizabeth Imports, Denver.
Paul Garaudet 1995 Meursault Vieille Vigne - Pale gold. Green-apple nose; light, fresh and crisp. Very young, and perhaps a more subtle wine suffers more than most from the glassware. U.S. importer: Pinnacle Imports Inc., Northport, Ala.
Domaine Mittnach-Klack 1990 Alsace Grand Cru Gewurztraminer Rosacker - Clear straw color. Litchees aroma, soft and unctuous flavor, a little flabby. "Like the juice that the canned litchees came in." Consensus: A little too old. U.S. importer: USA Wine Imports, NYC.
Taurasi 1988 Vigna Cinque Querce Riserva - Dark, hazy ruby with an amber edge. Caramel aroma, warm and pruney flavor, some oxidation, but tart and juicy fruit remains. Hard to tell where the ripe, warm-climate wine leaves off and time or mishandling set in, but it's still alive. U.S. importer: Estate Wines Ltd., San Rafael, Calif.
Sierra Cantabria Cosecha 1991 Rioja Reserva - Clear, rather light ruby color. Shy nose; sweet, juicy fruit and soft acidity. Pleasant at first, but seems light. However, this one seems to improve more than any other with time in the glass, gaining both fruit and structure after an hour. U.S. importer: M.R.R. Traders Ltd., Somerville, Mass.
San Vicente 1994 Tempranillo Rioja - Clear dark garnet. Dark fruit and ample oak, showing just a hint of the toasted coconut that was so dominant when I first tasted this wine last April. Juicy black fruit flavor, lemony acidity and subtle tannins. Also holds up well and seems to gain complexity through the evening; needs time. U.S. importer: Cutting Edge Selections Inc., Cincinnati.
Chateau Montelena 1995 The Montelena Estate Saint Vincent Napa Valley Red Wine - A blend of, it says, Zinfandel, Primitivo and Sangiovese, it's a very dark ruby color, with a berry aroma; dry, tart and peppery mixed-berry flavor. Not as structured as I expected, but a good quaff.
Caymus Vineyards 1989 Special Selection Napa Valley Cabernet Sauvignon - Thanks to Les for bringing this one; the combination of recent publicity over Caymus pricing and fears about the endurance of '89 North Coast Cabernet led to dinimished expectations, but this proved an over-achiever. Inky dark garnet, it showed good blackcurrant and dark chocolate aromas and a ripe, juicy black-fruit flavor framed by tart acidity. Moreover, it held up and improved through the evening. A winner!
Corison 1993 Napa Valley Cabernet Sauvignon - Very dark blackish-purple, almost opaque. Cassis and cherry-berry on the nose and palate, tart and tannic. Big and full, balanced, but even with decanting at the start of the evening, still could use more cellar time.
Ridge 1996 California Late Harvest Zinfandel Hearts Desire Vineyard - Very dark reddish-purple. Brooding, jammy blackberry aroma, and ripe, fresh-fruit flavors, sweet and tart, plum and raisin fruit in a remarkably long finish. (Initial sugar at harvest, 26.7%; residual sugar 1.5% and 14.7% alcohol.)
Royal Tokaji 1993 Tokaji Aszú 5 puttonyos - Clear, dark gold. Brandylike aromatics; sweet and structured flavor, golden raisins and currants. Light chilling makes it more approachable than when served initially at warmish room temperature.
Chateau Nairac 1988 Barsac - Pale gold. Faint apricot aroma; honey and tangy volatile acidity on the palate, seems to be drying out.
---
Saturday, June 27, 1998 - The Burgundy Cellar
I had known of the Burgundy Cellar by reputation for years, and enjoyed occasional E-mail correspondence with Richard Eccleston, its proprietor, since his shop's Website and the Wine Lovers' Page were among the half-dozen early wine-related stops on the then-tiny Web. We've enjoyed mutual links since the beginning, but it was a special treat to visit the shop in the real world and meet Richard face-to-face.
Richard, a self-proclaimed "eccentric" with a friendly demeanor and an oversize beard, runs exactly the kind of shop I'd like to have if, in an insane moment, I ever went into the business side of wine. Located in the village of Shirley, Mass., literally a wide spot in the road (Route 2A) in the history-rich suburbs beyond Concord and Lexington on the west side of Boston, the Burgundy Cellar fills a trim little white-frame house next door to a country restaurant called the Red Bull.
Walk in on a Saturday afternoon, when there's always a tasting going on, and whether you're a stranger or an old pal, Richard will smile and wave and yell, "Get yourself a wine glass and have a taste." There's always something especially interesting to taste, and generally an interesting crowd there to taste it.
Richard says he expects his customers to entertain him, preferably by talking about other things than wine; and this apparently typical Saturday afternoon was no exception, with participants ranging from university professors discussing anthropology and the acquisition of language skills to a well-fed Creole chef plotting the details of an upcoming suckling pig roast. "It's just another Saturday afternoon at the Burgundy Cellar," Eccleston said.
I ran into online pals Paul Winalski and Les Peters there, and another half-dozen folks I hadn't met before, and we spent a very pleasant afternoon chatting while doing justice to a startling variety of excellent wines:
A et P de Villaine 1996 Bourgogne Cote Chalonnaise La Digoine - Clear garnet, with a pleasant tart-cherry aroma. Crisp, bright and juicy fruit. U.S. importer: Kermit Lynch, Berkeley, Calif.
Alain Hudelot-Noellat 1995 Clos de Vougeot Grand Cru - Dark ruby, with black fruit and distinct but appealing "barnyard" aromas shaped by complex herbaceous notes. Bright, juicy fruit with barnyard and herbal elements in a very long finish. U.S. importer: Pinnacle Imports, Northport, Ala.
Coron Pere et Fils, 1995 Gevrey-Chambertin - Slightly hazy ruby color (billed as unfiltered). Simple fruit aromas, slight impression of sweetness on the first taste, turns tart and dry in the finish. U.S. importer: Metro Wine Distributing Co. Inc., Mineola, N.Y.
Paul Garaudet 1995 Monthelie 1er Cru Le Clos Gauthey - Very dark and rather hazy ruby color. Light herbaceous, earthy and black-cherry aromas; tart, earthy, herbaceous and full flavor. U.S. importer: Pinnacle Imports Inc., Northport, Ala.
J. M. Boillot 1992 Puligny-Montrachet 1er Cru Les Referts - Bright greenish-gold. Lovely green-pea and mint aromas and clean white fruit, very full and rich; almost chewy on the palate, tart and aromatic, flavors follow the nose into a very long finish. In a word: "Intense." Les Peters brought this one in, and many thanks to him for doing so; top-rank White Burgundy at its peak, but not going over the hill any time in the foreseeable future. U.S. importer: Ideal Wine & Spirits Co. Inc., Medford, Mass.
Corton-Charlemagne 1994 Grand Cru Bonneau du Martray - Light brass color. Minty, green-apple and perfumed aroma notes; soft, almost sweet on the attack, showing substantial structure lurking beneath. Impressive, but needs considerable time. U.S. importer: Seagram Chateau & Estate Wines Co., NYC.
Champagne Bollinger 1989 Grande Année Brut - Clear brass color. Tiny bubbles dissipate surprisingly fast. Lovely "biscuity" aroma; rich, creamy and tart on the palate, big and long in the finish. Wonderful Champagne. U.S. importer: Dreyfus, Ashby & Co., NYC.
---
Saturday, June 27, 1998 - Dinner at Tom T's
Wrapping up a delightful Boston visit of work and fun, Tom Troiano hosted a small group of wine-loving friends for dinner at his home in suburban Boston. Tom prepared a spectacular repast that the finest restaurants in town would have been hard-pressed to replicate; don't let this guy fool you, if the computer business ever goes to heck in a handbasket, he could have a second career as a high-end chef. I am not joking about this.
Revelers Tim Harrigan, Mark Levesque, Michael Pavloff, Father Clifton Thuma, Tom and this humble reporter enjoyed the following courses and wines:
With assorted patés and oysters on the half shell:
Domaine Zind-Humbrecht 1995 Herrenweg de Turckheim Riesling (375 ml) - Clear pale-gold. Fresh apple and grapefruit aromas. Unctuous, slightly sweet, with sufficient acidity for balance. U.S. importer: Wine Markets International Inc., Woodbury, N.Y.
Taittinger non-vintage Champagne La Francaise - Clear pale gold, with a lasting stream of tiny bubbles. Delicate rising-bread-dough and apple aromas; rich, tart and balanced. U.S. importer: Kobrand Corp., NYC.
Domaine Zind-Humbrecht 1992 Gewurztraminer Gueberschwir Goldert - Light brass color. Litchees and grapefruit, big and full on the nose and palate; sweet-tart initial flavor segues into a long bitter-almond finish. Nice! U.S. importer: Wine Markets International, Woodbury, N.Y.
With grilled lobster:
E. Guigal 1996 Condrieu - Pale-gold. Delicate melon and floral aromas; crisp, light and dry. Perhaps served a bit cold, begins opening up to startling complexity just as we finish our glasses. U.S. importer: Classic Wine Imports Inc., Boston.
Weingut Knoll 1994 Loibner Schütt Grüner Veltliner Smaragd ($21.99) - Pale straw color. Mint, mineral and lemon-lime aromas; rich, citric flavor, perhaps just off-dry on the first taste but dries out crossing the palate, with citrus, mineral and mint in a long finish. U.S. importer: Milton S. Kronheim, Washington, D.C.; a Terry Theise Estate Selection.
With beef tenderloin and baby vegetables on roasted red pepper sauce:
Buehler 1984 Napa Valley Cabernet Sauvignon - Inky dark reddish-purple. Blackcurrant and very forward minty aromas, pleasant and appetizing. Sweet fruit, very tart flavor over soft but still perceptible tannins, with a delicate minty quality lingering in the finish.
Chateau Lynch-Bages 1985 Pauillac - Dark garnet with a clear edge. Black fruit and elusive herbal aroma notes ... oregano? tarragon? Maybe ... and certainly that classic "lead pencil" and "tobacco leaf." Full and ripe, substantial fruit and soft tannins, seems quite youthful still. After time in the glass, a startling, pleasant burnt-sugar quality reminiscent of crême brûlée appears. Delightful wine. U.S. importer: Boston Wine & Co., Boston.
With cheeses, pistachios and fruit:
Domaine du Vieux Saint Sorlin 1994 Macon la Roche Vineuse "La Cras" ($24.99) - Clear pale-gold, with an amazing aroma of pure melted butter. Oak very evident on the palate, but so is a huge ration of ripe, forward fruit, with, as Mark Levesque points out, that classic Maconnais "chalky" quality in the long finish. U.S. importer: Ideal Wine & Spirits Co., Inc., Medford, Mass.
Robert Mondavi Winery 1987 Napa Valley Cabernet Sauvignon Reserve - Very dark reddish-purple. Black fruit and pleasant elements of coffee, chocolate and fine leather. Rich and smooth, still showing plenty of delicious fruit. Seems at peak and much more advanced than the same wine tasted at Eric Stauffer's last April.
The Hess Collection 1990 Napa Valley Cabernet Sauvignon - Very dark garnet. Minty black fruit and vanilla aromas; big, full-bodied fruit flavor, clean and long.
With crême brûlée:
Chateau Lamothe 1986 Guignard Sauternes - Pale gold. Luscious, juicy apricot aromas; ripe, juicy and sweet flavor, balanced and rich. Excellent wine, evolving well, although the sweet dessert dries it out and turns it tart; best sipped alone, before or after the dessert course. U.S. importer: Classic Wine Imports Inc., Boston.
---
Have you tasted these wines?
E-mail me your tasting notes,
and I'll consider adding them to this page.
All my wine-tasting reports are consumer-oriented. In order to maintain objectivity and avoid conflicts of interest, I purchase all the wines I rate at my own expense in retail stores.