GETTING STARTED | WINE NOTES | SEARCH SITE | DISCUSSION FORUMS | 30 SECOND WINE ADVISOR | CONTACT US

<!TODAY'S TEXT STARTS HERE!>

Red or white with pork?

Red wine with red meat, white wine with white meat ... how to apply the formula to "the other white meat," pork? I generally go with a rich white, but we enjoy red wine so much that I'm always trying to find a way to fashion pork dishes that will harmonize.

I thought maybe the combination of a char-grilled boneless loin with a good dose of hickory smoke, plus a quick, lightly spicy Southwestern sauce (a simple velouté with freshly roasted green bell peppers and a bit of ancho and chipotle flavor buzzed in) would do the trick.

I tried two fairly affordable wines with it - a very fresh Albariño (a great summer quaff, by the way), and a modest South African red. Both went well, and yes, the spicy chile-pepper and smoke flavors in the pork dish made it play nicely with the red. But, bottom line, the white wine still seemed to marry better with the natural flavors of the pork itself.

No, "white with white" is not a universal rule, but sometimes it's worth a reality check to remind ourselves that these generalizations exist because they usually work.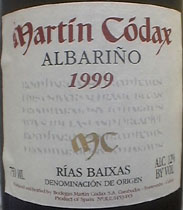 Martin Codax 1999 Rías Baixas Albariño ($11.99)
Clear straw color, with a crackling carbonation that froths up in the glass, then falls back to a quiet ring of foam around the edge. Fresh peach and almond aromas lead into a full, peachy flavor with a crisp citric snap and slight prickly sense of carbonation on the tongue. A truly refreshing white wine for a hot summer's day. U.S. importer: Cutting Edge Selections, Cincinnati. (June 25, 2000)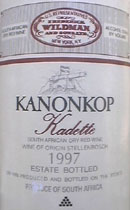 Kanonkop 1997 Stellenbosch (South Africa) Kadette ($10.99)
Inky dark garnet, with an earthy cherry-berry aroma and whiffs of leather and warm spice. Juicy fruit and sipce flavors follow the nose, a bit on the soft side but with plenty of acid for balance. A blend of Cabernet Sauvignon and Merlot in undisclosed proportions. Not bad! U.S. importer: Frederick Wildman & Sons Ltd., NYC. (June 25, 2000)

FOOD MATCH: Worked very well with grilled pork loin with a light bell-pepper and ancho sauce.

The Albariño was featured in The 30 Second Wine Advisor, my free weekly E-mail bulletin of quick wine tips, advice and tasting notes. Click here to join the E-mail list!

Have you tasted these wines?
E-mail me your tasting notes,
and I'll consider adding them to this page.

All my wine-tasting reports are consumer-oriented. In order to maintain objectivity and avoid conflicts of interest, I purchase all the wines I rate at my own expense in retail stores.

Back to Current Tasting Notes Index