<!TODAY'S TEXT STARTS HERE!>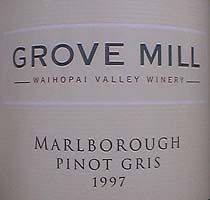 Grove Mill 1997 Waihopai Valley Winery Marlborough (New Zealand) Pinot Gris ($15.99)
Clear, pale greenish-gold. Distinct aroma of green olives, rich and full. Olives follow on the palate, crisp and aromatic, with good crisp citrus flavors, so fruity that it almost seems sweet. Firm acidity builds structure into a long finish. U.S. importer: Appellation Imports, Annapolis Junction, Md. (June 23, 1999)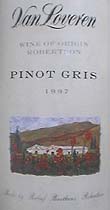 Van Loveren 1997 Robertson (South Africa) Pinot Gris ($7.49)
Clear straw color. Simple melon aromas appear at first, but they're soon accompanied by funky, earthy scents that remind me of overripe fruit at first and that soon warm into a dank, damp-wool scent. Musky and full on the palate, tart and dry. That woolly aroma, unfortunately, is an all-but-fatal flaw, and we soon push back this glass in favor of the New Zealand wine. (June 23, 1999)

FOOD MATCH: Chilean sea bass pan-sauteed with ginger and garlic.


Have you tasted these wines?
E-mail me your tasting notes,
and I'll consider adding them to this page.

All my wine-tasting reports are consumer-oriented. In order to maintain objectivity and avoid conflicts of interest, I purchase all the wines I rate at my own expense in retail stores.