<!TODAY'S TEXT STARTS HERE!>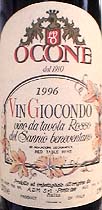 Ocone 1996 Vin Giocondo Vino da Tavola Rosso del Sannio Beneventano ($7.99)
Clear garnet, with spicy black-fruit and pepper aromas with a whiff of caramel. Ripe, juicy and tart, simple but fresh and clean. Lemony acidity provides structure and serves it well at the table. U.S. importer: Vin di Vino Ltd., Chicago. (June 21, 1999)

FOOD MATCH: It makes a surprisingly good match with a vegetarian dish of beets and tofu over soba (buckwheat) noodles; the earthy flavors of the food play in harmony with the "rustic" and fruity red wine.

Lava Cap 1996 El Dorado (California) Fumé Blanc ($11.99)
Clear straw color, with a light lemon-lime scent and a delicate, pleasing touch of hazelnut. Full, fruity flavors follow the nose, crisp and long. (June 21, 1999)
FOOD MATCH: Although the wine is fine, it doesn't work with the dish, an unexpected result since I'd normally think of a crisp white as a reasonable choice with meatless fare. In this case, though, the strong flavors of the beets and miso overwhelm the white and bring up its acidity, yielding a tart, sour impression that's not present when the wine is sipped alone.

These wines were featured in The 30 Second Wine Advisor, my free weekly E-mail bulletin of quick wine tips, advice and tasting notes. Click here to join the E-mail list!

Have you tasted these wines?
E-mail me your tasting notes,
and I'll consider adding them to this page.
All my wine-tasting reports are consumer-oriented. In order to maintain objectivity and avoid conflicts of interest, I purchase all the wines I rate at my own expense in retail stores.