GETTING STARTED | WINE NOTES | SEARCH SITE | DISCUSSION FORUMS | 30 SECOND WINE ADVISOR | CONTACT US
<!TODAY'S TEXT STARTS HERE!> German wines ought to be wildly popular. They are light, low in alcohol and fruity, with a delicate sweetness that's crisp like fresh fruit, not sticky like candy. What's not to like, especially in a nation that guzzles soft drinks with lunch and doses its iced tea with spoonsful of sugar? But, perhaps because of their long names and dense labels, German wines gather dust on wine shop shelves. With the lazy, hazy days of summer upon us, I'd say it's time for another look at German wines.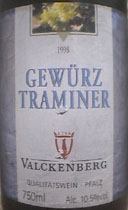 Valckenberg 1998 Pfalz Gewurztraminer ($8.99)
A relatively simple label (by German standards) adorns this aromatic wine, listing in order the maker, the vintage, the region and the grape. A clear, pale brass-colored wine, its characteristic Gewurztraminer aroma blends fresh pink grapefruit with subtle apricot and musky scents. Soft and fresh flavors evoke kiwis and strawberries and mint; light fresh-fruit sweetness is structured with soft acidity, and a slight bitter-almond flavor appears in the lingering aftertaste. U.S. importer: Valckenberg International Inc., Tulsa, Okla. (June 15, 2000)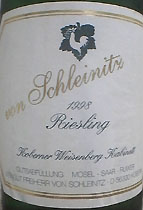 Von Schleinitz 1998 Koberner Weisenberg (Mosel-Saar-Ruwer) Riesling Kabinett ($11.99)
Clear light straw color, with tiny bubbles that line the glass. Faint musky melon aromas, shy in the aroma department. Better on the palate, musky white fruit flavors, crisp and full; steely acidity cloaks a slight sweetness with a piercing tart finish that lasts. U.S. importer: Michael Skurnik Wines, Syosset, N.Y.; a Terry Theise Estate Selection. (June 15, 2000)
FOOD MATCH: This and the Gewurztraminer above went very well with pork medallions in a goulash-style paprika and sour cream sauce.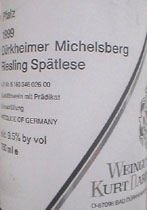 Weingut Kurt Darting 1999 Dürkheimer Michelsberg Riesling Spätlese ($12.99)
Very pale brass color, this delicious Riesling breathes pleasant scents of fresh apples and tangerines. Crisp and citric fruit flavors show a distinct edge of sweetness. Light and quenching, it's an excellent summer quaff. U.S. importer: Michael Skurnik Wines, Syosset, N.Y.; a Terry Theise Estate Selection. (June 18, 2000)
FOOD MATCH: Demonstrating the affinity of off-dry German wines with Asian fare, this one makes a fine match with a Filipino-style adobo of pork and chicken braised in a soy-based sauce.

The Gewurztraminer was featured in The 30 Second Wine Advisor, my free weekly E-mail bulletin of quick wine tips, advice and tasting notes. Click here to join the E-mail list!

Have you tasted these wines?
E-mail me your tasting notes,
and I'll consider adding them to this page.
All my wine-tasting reports are consumer-oriented. In order to maintain objectivity and avoid conflicts of interest, I purchase all the wines I rate at my own expense in retail stores.
Back to Current Tasting Notes Index