<!TODAY'S TEXT STARTS HERE!>

Chardonnays from opposite poles

It may not have passed without notice that Chardonnay -- or at least the current New World style thereof -- is not my favorite wine. I tend to pass quickly by the shelves bearing California Chardonnays by the hundreds and Australian Chards by the dozens because I simply don't care for the oaky, buttery and slightly sweet style that afflicts so many of them.

Today, however, from almost literally opposite poles of the Earth come two Chardonnays that passed muster with me: A good Rully (a light, early-drinking White Burgundy from the Cote Chalonnaise) and a Chardonnay from Kumeu River, one of New Zealand's warmest wine regions on the North Island near Auckland. Perhaps surprisingly given their antipodal roots, these wines were surprisingly similar in style, showing full, crisp and dry fruit with oak present but discreet.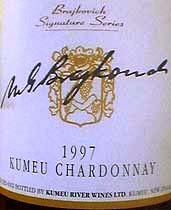 Kumeu River 1997 Brajkovich Signature Series Kumeu (New Zealand) Chardonnay ($18.99)
Pale straw color with a hint of a greenish glint. Full apple-like scent leaps from the glass, full and pleasant, framed by appealing floral notes. Crisp, fresh and tart in flavor, green apples and a slight, intriguing hint of almonds, long and clean in the finish. U.S. importer: Wilson Daniels, Saint Helena, Calif. (June 17, 1999)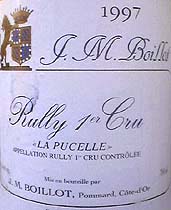 J.M. Boillot 1997 Rully 1er Cru "La Pucelle" ($18.99)
Clear, light greenish-gold in color, with a fresh, appetizing scent of apples, crisp and clean, with a whiff of spice to add complexity. It shows soft and juicy fruit flavors, with almost a prickly hint of petillance on the first taste; it's built on a firm acidic structure. (June 17, 1999)

FOOD MATCH: Both wines went very well with grilled marlin accented with delicate ancho butter.


Have you tasted these wines?
E-mail me your tasting notes,
and I'll consider adding them to this page.

All my wine-tasting reports are consumer-oriented. In order to maintain objectivity and avoid conflicts of interest, I purchase all the wines I rate at my own expense in retail stores.