GETTING STARTED | WINE NOTES | SEARCH SITE | DISCUSSION FORUMS | 30 SECOND WINE ADVISOR | CONTACT US
<!TODAY'S TEXT STARTS HERE!>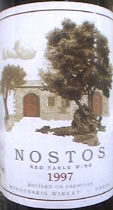 Manousakis 1997 Nostos Red Table Wine ($9.99)
This was the first wine I've seen at local retail from Crete, the ancient island off the southern coast of Greece. Given its heritage and the anticipation of enjoying a new wine from a previously untasted source, I frankly wish it could have been a little better. But even by hard-hearted objective standards, it's about what you'd expect of a warm-climate country wine, and a fair deal for $10. Hazy, inky dark-ruby in color, its aromas focus on warm, plummy fruit, fragrant pepper and wafts of vanillins. Full and soft, earthy fruit flavors follow the nose in a full-bodied but somewhat flabby wine that's a bit shy on acidic structure but goes well to wash down food. Unlike many Greek wines made from relatively unfamiliar native varieties, this is a blend of Syrah, Grenache, Mourvèdre and Roussanne grapes. U.S. importer: Hand Picked Selections, Warrenton, Va. (June 12, 2000)
FOOD MATCH: Wakes up with a Greek-style dish of sausage cooked with tomato sauce and orzo with aromatic touches of cinnamon and nutmeg.

Have you tasted this wine?
E-mail me your tasting notes,
and I'll consider adding them to this page.
All my wine-tasting reports are consumer-oriented. In order to maintain objectivity and avoid conflicts of interest, I purchase all the wines I rate at my own expense in retail stores.
Back to Current Tasting Notes Index