<!TODAY'S TEXT STARTS HERE!>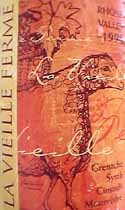 A long-time value


This decent table wine's reputation for value goes way back in modern wine time. It was the late 1970s, before the days of Robert M. Parker Jr. and before The Wine Spectator, when New York Times food writer Craig Claiborne declared that this simple French red was his everyday "house" wine because it was both inexpensive and good. A lot has changed since them; the Perrin family that makes the wine has become well and widely known for its more expensive Rhônes. They eventually rolled out a gold-label "Reserve" version of this basic red, and later relabeled it as "Perrin Reserve," a good, but not as low-priced choice. But they've always anchored the bottom end of their line with this basic Côtes du Ventoux, and it has consistently earned its reputation for value. This current release, decked out with a bright new label, continues that standard. (The label, by the way, relegates the Côtes du Ventoux appellation to very small print on the black label, using the generic "Rhone Valley" on the front along with a list of its grape varieties: Grenache, Syrah, Cinsault and Mourvèdre.)

La Vieille Ferme 1996 Côtes du Ventoux ($7.99)
Dark garnet in color, with good black fruit and spicy oak aromas, with a dose of fragrant black pepper that's pleasantly characteristic of Rhône Syrahs. Full, bright fruit and spicy pepper flavors are supported by a firm structure of lemon-squirt acidity. A little short, a little rough, but overall, a quaffable country wine and a good food match. U.S. importer: Vineyard Brands Inc., Birmingham, Ala. (June 10, 1998)

FOOD MATCH: Spicy turkey burgers from the grill.

Have you tasted this wine?
E-mail me your tasting notes,
and I'll consider adding them to this page.

All my wine-tasting reports are consumer-oriented. In order to maintain objectivity and avoid conflicts of interest, I purchase all the wines I rate at my own expense in retail stores.