<!TODAY'S TEXT STARTS HERE!>

Two modest Italian reds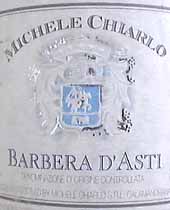 Michele Chiarlo 1996 Barbera d'Asti ($9.99)
Dark garnet color. Red-fruit and spicy oak aromas lead into a full, bright flavor of simple red fruit with a dash of lemon-squirt acidity and a soft jolt of tannin. Very pleasant table wine, with the potential to improve over several years in the cellar. U.S. importer: Kobrand Corp, NYC. (June 7, 1998)

FOOD MATCH: Just right with "tannin-wiping" filet mignons, braised in dry red wine in the fashion of the Barolo region.

WEB SITE: In very tiny type, the back label lists a Website for the winery, www.chiarlo.it.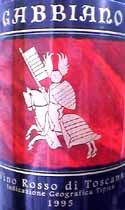 Gabbiano 1995 Vino Rosso di Toscana ($7.99)
From the well-known Chianti house of Gabbiano comes a modest table wine, priced below Chianti but still based on the Sangiovese grape. It's a clear ruby color with a spicy, earthy aroma of oak and black-cherry fruit, with just a faint whiff of a nutlike scent. Fresh, juicy and very tart in flavor, it's the kind of country wine you'd expect to find in a wicker-wrapped bottle. It's good for washing down robust food, if a bit rough for sipping alone. U.S. importer: Wine World Imports, Napa, Calif. (June 9, 1998)
FOOD MATCH: A good cross-cultural match with Filipino adobo, pork chunks braised in soy and vinegar with garlic and star anise.
Have you tasted these wines?
E-mail me your tasting notes,
and I'll consider adding them to this page.
All my wine-tasting reports are consumer-oriented. In order to maintain objectivity and avoid conflicts of interest, I purchase all the wines I rate at my own expense in retail stores.