<!TODAY'S TEXT STARTS HERE!>
Don Demuth

Wine dinner in Cincinnati


Quite an eclectic selection of wines were up for review last night as several members of the Wine Lovers' Discussion Group gathered at La Petite France, a nice little country French spot in suburban Cincinnati, to honor Don and Meg Demuth's visit to the region.
Mike Conner (tasting) and Bob Henrick

Bob Henrick and Mike Conner came up from the south, Mary and I wandered over from the west, and Don's brother Tom and his wife made up a group of eight. The restaurant's wine list was short, but they offered a reasonable $5 corkage policy -- and then waived that. It was a dimly lit place, so my color judgements in the following may be off-key just a bit:

Aperitíf:

Domaine de la Mordorée 1997 Tavel Ros&eacute - Clear rose color, rather dark for a rosé. Light, pleasant herbal aromas and a crisp, fruity and tart flavor, bone-dry and fresh. U.S. importer: Kysela Pere et Fils, Winchester, Va.

With appetizers including escargots Bourguignonne, shrimp Maison (with sun-dried tomato and smoked salmon) and roast Portobello:

Weingut Hiedler 1995 Langenloiser (Austria) Weingärtnscuvee Grüner Veltliner Trocken - ($10.99) Clear straw color. Lovely mineral and mint aromas, typical of the grape. Ripe, juicy fruit, full body and steely acidity, dry or so near it as to make no difference. U.S. importer: Milton S. Kronheim, Washington, D.C.; a Terry Theise Selection.

With entrées including grilled lamb chops, duck breast in a dried-cherry sauce, and beef filet:

Thunder Mountain 1995 Beauregard Ranch Santa Cruz Mountains Cabernet Sauvignon - Inky dark reddish-purple. Big chocolate-cherry aroma leads into a ripe, surprisingly forward black-fruit flavor, tannins present but hidden behind the fruit. Impressive wine.

Ridge 1985 California Cabernet Sauvignon Monte Bello - Very dark garnet, clear edge, no visible signs of age. Cassis and subtle coffee aroma notes; full, sweet, balanced and harmonious, still showing some soft tannins and zingy acidity. Great wine, probably still a little short of its peak.

Maurice Ecard et Fils 1996 Savigny-les-Beaune 1er Cru Les Serpentières - Clear ruby color, with lovely rosy-floral aromas. Full, ripe Burgundy fruit, red fruit and restrained herbaceous notes, full and velvety. Remarkable wine, actually draws attention away from the Monte Bello (and a spectacular match with a duck-breast entree featuring a dried-cherry sauce). Also great value, priced at a reported $27 in Delaware. U.S. importer: Grand Cru Imports, Souderton, Pa.

With a plate of underripe Brie and fine Chaumes cheeses:

Chateau Laffitte-Ceston 1994 Madiran - Inky dark-purple, with good black-fruit aromas, closed and tight. Big black fruit and anise on the palate, heavy tannins but lots of fruit, showing well for such a young Madiran. U.S. importer: Wine Traditions Ltd., Falls Church, Va.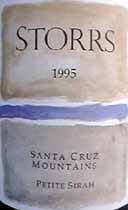 Storrs 1995 Santa Cruz Mountains Petite Sirah ($19.99) - Very dark garnet. Plummy, perfumed black-fruit aromas; floral, big and layered flavor, oak present but in balance. Good Petite Sirah, a lot more multi-dimensional than I expect from this grape.
With desserts including Crême Brûlee, Chocolate Mousse and Marquis aux Chocolat:
Chateau Doisy-Vedrines 1986 Sauternes - Clear pale gold. Fresh apricot aroma, full and ripe, botrytis less evident on the nose than on the palate. Full, unctuous honey-apple fruit flavor, drying out a bit but still very rich. Delicious. U.S. importer: Seagram Chateau & Estate Wines Ltd., NYC.
Have you tasted these wines?
E-mail me your tasting notes,
and I'll consider adding them to this page.
All my wine-tasting reports are consumer-oriented. In order to maintain objectivity and avoid conflicts of interest, I purchase all the wines I rate at my own expense in retail stores.