<!TODAY'S TEXT STARTS HERE!>

Three '95 Bordeaux Under $10


Amid all the talk about the ever-increasing prices of top wines from Bordeaux -- and it's certainly justified, particularly with recent reports that the 1997s will see a further increase even though it was a lackluster vintage -- it's worth remembering that affordable, decent Bordeaux can still be had, provided the canny shopper avoids the fancy classified labels and cherry-picks instead among the less "desirable" labels including "satellite" districts and the simpler Bordeaux Supérieur and even the basic generic Bordeaux appellations.

The following three, all brought into the U.S. by Classic Wine Import Inc., of Boston, cost less than $10 and, for that price, represent very good value. They're certainly not first growths or "super seconds," but they do give an early reading on what the good 1995 vintage is all about.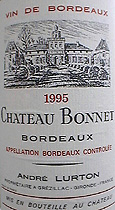 Chateau Bonnet 1995 Bordeaux ($7.99)
Although it's only a simple Bordeaux at a single-digit price, this bottle from the usually reliable André Lurton could probably sneak into a classier group unnoticed. It's very dark garnet in color, with good black fruit and blueberry scents overlain with spicy oak. Bright juicy fruit flavor is framed with tart acidity and light tannins. A bit thin, perhaps, but pleasant and approachable, a very good food wine and a fine value. U.S. importer: Classic Wine Imports Inc., Boston. (May 30, 1998)
FOOD MATCH: Lamb chops pan-grilled with garlic and rosemary.
Chateau La Fleur Plaisance 1995 Montagne-Saint-Émilion ($9.99)
Dark ruby color. Black-fruit and markedly herbaceous aromas, damp hay and "forest floor." Full, juicy fruit flavor, consistent with the nose, structured with lemon-squirt acidity and substantial tannins. U.S. importer: Classic Wine Imports Inc., Boston. (June 3, 1998)
FOOD MATCH: An East-West "fusion" dish of soba noodles with chicken and asparagus, the latter proving unexpectedly well suited to the herbaceous wine.
Chateau Recougne 1995 Bordeaux Supérieur ($9.99)
Clear, bright reddish-purple. Candied red-fruit aroma, oddly reminiscent of wild-cherry Life Savers. Bright and juicy fruit flavor, dry and tart, atypical in style, resembles a Cotes-du-Rhone more than a Bordeaux, but it's fruity and quaffable. U.S. importer: Classic Wine Imports Inc., Boston. (June 4, 1998)
FOOD MATCH: Shell pasta tossed with green peppers and onions and topped with grated Lancashire cheese. The buttery, somewhat earthy cheese makes a surprisingly good match with the wine.
Have you tasted these wines?
E-mail me your tasting notes,
and I'll consider adding them to this page.
All my wine-tasting reports are consumer-oriented. In order to maintain objectivity and avoid conflicts of interest, I purchase all the wines I rate at my own expense in retail stores.