<!TODAY'S TEXT STARTS HERE!>

Three from Regaleali


My friend Anne Joseph, the wine buyer from my favorite local wine shop, went to Sicily recently, and came back impressed enough with the Regaleali wines of Conte Tasca d'Almerita to stock up on a supply from Winebow, the U.S. importer. On her advice, I tried all three. OK, so I wasn't quite as smitten as she was; still, they're all interesting wines, with the Rosso and Bianco offering good value, although the high-end "Red Table Wine" is pushing it a little at $25.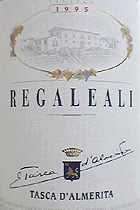 Conte Tasca d'Almerita 1995 Regaleali Rosso ($9.49)
Dark ruby color. Fresh red-fruit and spicy oak aromas. Warm, soft and plummy flavors, sweet red fruit at first, dries out with tart acidity in the finish. Definitely a warm-climate wine, but well-balanced and a good quaff. U.S. importer: Winebow Inc., NYC. (May 28, 1998)
FOOD MATCH: Good match with grilled chicken.

Conte Tasca d'Almerita 1995 Regaleali Bianco Sicilia ($9.49)
Clear brass color. Attractive aroma, delicious citric lemon-lime at first, opens up to ripe musky melon with time in the glass. Crisp, full fruit, consistent with the nose, with ample acidic structure to hold it together. A little short, but fresh and clean in the finish. U.S. importer: Winebow Inc., NYC. (May 31, 1998)
FOOD MATCH: Worked well with a Japanese-style summer entree of tofu and cucumbers over cold soba noodles.
Conte Tasca d'Almerita 1995 Rosso del Conte Red Table Wine of Sicily ($24.99)
Tasca's top-end bottling, it presumably contains non-authorized grapes (Cabernet?) in addition to the Sicilian standards. It's a dark garnet color with a bright reddish-purple edge. Ripe cherry-cola and strong licorice with a hint of burnt sugar make for a startling but not unpleasant scent. Its full, juicy fruit flavor is sweet on the first impression but dries out with snappy acidity and soft tannins on the palate. Plums and tart cherries and subtle nuances that mirror the nose make for a complex, unusual flavor. Like the basic rosso, it's a big, rustic warm-climate wine. It's hard to predict how it would behave in the cellar, but might be interesting to give it a try. U.S. importer: Winebow Inc., NYC. (June 2, 1998)
FOOD MATCH: Not a bad match with a chicken sizzling from the grill, but even garlic and hickory smoke don't really give the bird the oomph it needs to stand up to a wine this robust. Red meat or even game might have been better.
Have you tasted these wines?
E-mail me your tasting notes,
and I'll consider adding them to this page.
All my wine-tasting reports are consumer-oriented. In order to maintain objectivity and avoid conflicts of interest, I purchase all the wines I rate at my own expense in retail stores.