GETTING STARTED | WINE NOTES | SEARCH SITE | DISCUSSION FORUMS | 30 SECOND WINE ADVISOR | CONTACT US
<!TODAY'S TEXT STARTS HERE!>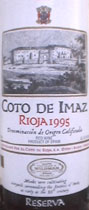 Coto de Imaz 1995 Rioja Reserva ($15.99)
With the possible exception of Sherry, Rioja may be the most well-known Spanish wine around the world, and justly so: For general quality, it competes on an even playing field with other nations' "flagship" wines. In recent years, though, demand has lifted the price of many well-known Riojas to the extent that it may be losing its reputation as a good value. But this fine Reserva (and the winery's standard bottling, El Coto, which I reviewed last week) could help bring it back.
Dark ruby in color, it breathes a pleasant aroma of hot blueberry pie and vanilla ice cream that may owe as much to oak as fruit. Bright, mixed-berry fruit flavors and oaky vanillins on the palate, with soft but perceptible tannins that become more evident in the finish, suggest that oak is playing a major role at this point. At $5 less, the lovely El Coto may be a better buy at this point. But for all its oak, the Reserva is a tasty wine too, easy to sip; and assuming that it follows the usual pattern of Rioja Reserva, it will last and improve for many years. U.S. importer: Frederick Wildman & Sons Ltd., NYC. (May 30, 2000)
FOOD MATCH: Pan-grilled strip steaks with lots of cracked black pepper make a natural match for this youthful red.

Have you tasted this wine?
E-mail me your tasting notes,
and I'll consider adding them to this page.
All my wine-tasting reports are consumer-oriented. In order to maintain objectivity and avoid conflicts of interest, I purchase all the wines I rate at my own expense in retail stores.
Back to Current Tasting Notes Index