<!TODAY'S TEXT STARTS HERE!>

Zephyr Cove (Louisville) tasting dinner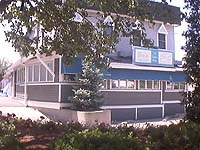 A group of four enjoyed quite a "foodie" experience last week, sampling at Louisville's Zephyr Cove, an eclectic American bistro with a decent reputation and a bit of a penchant for creative ways with game and exotic meats. Its new "Extreme Dining" feature offers small groups the opportunity to enjoy a quiet evening in a private room with an open kitchen, where Owner-chef John Richards and Executive Chef Chris Howerton prepare an eight-course, three-hour feast with running commentary, offering serious food lovers a great chance to intereact with the chefs and learn while enjoying a memorable meal. At $70 per, it's pricey but fair, definitely an experience worth repeating.

While patrons are welcome to order whatever wines they like from Zephyr Cove's list, the special dinner comes with two recommended tasting "flights" -- wines specifically chosen for each weekend's menu -- offering diners the choice of a $25 tasting with three-ounce portions of eight decent but affordable wines or a $50 "grande tasting" featuring more pricey items or cellar selections.

We tried both options, and by sneaking sips from my wife's glasses, I was able to accumulate notes on 14 wines. With the usual caveats about the iffy nature of notes on wine consumed in the less than analytical setting of a social restaurant evening, here's my report:

Gruet non-vintage New Mexico Brut Blanc de Noirs
Clear, pale-gold. Pleasant "biscuity" scent with hints of apples. Crisp, dry and smooth, one of the more stylish American sparkling wines. (May 28, 1999)

FOOD MATCH: An amuse gueule serving of pan-seared rare tuna and a sushi-style tuna roll stuffed with dungeness crab, plated on a tamarind sauce dotted with three flavored oils and fine-shredded orange peel.

King Estate 1996 Willamette Valley (Oregon) Pinot Gris
Clear, pale greenish-gold color, with light, fresh melon scents and a musky, dry and tart flavor, fresh and cleansing. (May 28, 1999)

Chalone 1993 Monterrey (California) Pinot Blanc
Clear light gold. Pleasant floral and tropical fruit aromas; soft, oaky, buttery and sweet, a Chardonnay "clone." Served with the more expensive tasting, but I frankly preferred the Oregon wine. (May 28, 1999)

FOOD MATCH: A quickly seared large "diver" scallop served on a bed of four-lentil salad and a circlet of tiny, paper-thin Japanese cucumber, topped with a sweet-tart red-onion marmalade.

Beaulieu Vineyards (BV) Carneros Pinot Noir
Dark garnet, with pruney, stewed-fruit aromas and a warm, full, pruney flavor. Unimpressive. (May 28, 1999)

Au Bon Climat 1997 Santa Maria Valley Pinot Noir
The more expensive flight had the better of this tasting. Surprisingly hazy ruby in color, it showed good, earthy cherry-cola and "tomato skin" aromas and flavors, mouth-filling and round, a tasty Pinot that improved with airing. The haze and a slight prickly feeling on the tongue made me wonder what's going on in it, though. (May 28, 1999)

FOOD MATCH: The earthy Au Bon Climat in particular went well with a robust terrine of sautéed fois gras and crispy sweetbreads served on an apple purée with Sauternes and balsamic and garnishes of radicchio and crisp-fried parsnip slivers.

Bouchaine 1996 Russian River Valley Gewurztraminer "Dry"
Clear, bright gold. Delicious aroma of litchees, full and intence. Rich and tart-sweet (despite the name), better-structured and more interesting than a lot of California Gewurzes. (May 28, 1999)

Handley 1996 Anderson Valley Gewurztraminer
The more pricey tasting took it on the chin again in this round, with a clear-straw-color wine showing simple grapefruit aromas and unexciting, undifferentiated citric acidity on the palate. (May 28, 1999)

FOOD MATCH: Sipped on their own, pushed back the wine during an outstanding salad course of chilled green and white asparagus under a "microgreens" salad of 15 to 20 tiny, hydroponic field greens garnished with toasted hazelnuts and Maytag blue cheese, dressed with a rice-wine vinegar and hazelnut-oil vinaigrette, followed by an "intermission" palate cleanser of mango-mandarin sorbet in a cold kiwi soup.

Lindemans 1996 "Padthaway" Chardonnay
Clear gold. Butter and vanilla scents, light, off-dry apple flavor.(May 28, 1999)

Landmark 1996 California Chardonnay
Clear gold. Oaky, buttery, tropical fruit, typical Cal-Chard on the nose, but better on the palate, where it shows more acidic structure than is usual for the genre, and opens up past the oak to show substantial fruit. (May 28, 1999)

FOOD MATCH: Acceptable, but I think I'd have liked something more like a Pinot Gris to make a perfect match with a wonderful, herb-crusted pan-roasted salmon and lobster claw over Peruvian potatoes mashed with lobster and country ham bits and plated on a pear-applesauce scented with fennel.

Fess Parker 1996 Santa Barbara Syrah
Inky dark reddish-purple. Peppery, jammy fruit aromas, full and ripe; black pepper on the palate, oaky and almost sweet. (May 28, 1999)

Ridge 1997 Lytton Springs Zinfandel
This treat was the payoff for the more pricey tasting. Very dark ruby in color, it's closed but still stunning, with deep, brooding black fruit aromas and lovely complexity and balance, almost claret-like on the palate. (May 28, 1999)

FOOD MATCH: Both go well, each in its own way, with fork-tender roast venison loin in its natural jus over braised collard greens and quinoa, topped with a trio of earthy fresh morels.

Georges Duboeuf 1989 Muscat-de-Beaumes-de-Venise
The conventional wisdom holds that Beaumes-de-Venise should be drunk up young, but this 10-year-old cellar veteran is holding up quite well. Clear gold in color, it shows delicious aromas of pears, ripe and full; sweet and crisp on the palate, showing only minimal signs of oxidation. Served with both tastings. (May 28, 1999)

Quinta de la Rosa "Founders Reserve" Port
Very dark ruby. Good, ripe black-fruit flavors; sweet and simple, with a lemony acidic "grip." (May 28, 1999)

Quady 1990 California "Starboard"
Coincidentally, I had recently tasted a similar wine from this maker, the Batch 88 Starboard, with consistent impressions. Opaque in color, it offers good, plummy fruit and dark chocolate aromas. Sweet, warm and strong, it's a bit hot in the finish. (May 28, 1999)

FOOD MATCH: An amazing trio of desserts from Richards, a certified pastry chef: A rich, sticky-sweet chocolate peanut mousse napoleon; pear pastries laced with Sauternes in a cream-cheese pastry on a pear compote and reduced "cranberry essence" with aromatic touches of cinnamon and star anise; and the winner of the evening for me, an unlikely but outstanding cheesecake made from mild goat cheese flavored with key lime and chipotle peppers, a dangerous but delicate balance between sweet, hot and fragrant flavors.

Have you tasted these wines?
E-mail me your tasting notes,
and I'll consider adding them to this page.

All my wine-tasting reports are consumer-oriented. In order to maintain objectivity and avoid conflicts of interest, I purchase all the wines I rate at my own expense in retail stores.