<!TODAY'S TEXT STARTS HERE!>

Gallo vs. Bordeaux 'shootout'

As I've mentioned before, I know of no better way to eliminate the variable of prejudice from a tasting than to taste two or more wines in a "blind" setting, with the wines poured out of my sight and presented in unmarked glasses so I won't be influenced by knowing which is which.

I set up such a "shootout" the other day as a way to put a popular American Cabernet to the ultimate test. In previous tastings, I had found the new Gallo of Sonoma Cabernet Sauvignon to be an unexpectedly good wine considering its midrange price and mass-market origin. But could it stand up in a patently unfair shooting match, put up "blind" against a genuine Bordeaux that cost roughly twice as much and that might gain elegance from having Merlot and Cabernet Franc grapes as part of its blend?

Well ... maybe. Let's say that the Gallo showed surprisingly well in this uneven match. I'd be hard-pressed to call either of these rather different wines a clear-cut winner, but neither can I name one as the obvious loser. The Bordeaux will surely outlast the Gallo and eventually reach a greater height than the California wine is likely to attain; but based on the simple test of ratings points for immediate enjoyability, it's hard to fault the Gallo.

Here's the tale the tasting notes tell: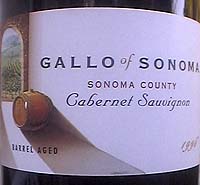 Gallo of Sonoma 1996 Sonoma County Cabernet Sauvignon ($9.99)
Inky dark garnet in color, this wine shows good, ripe blackcurrant ("cassis") aromas with a pleasant but distinct vanilla aroma that suggests American oak, offering the first hint that this is the California wine. Sweet oak and black-fruit flavors contend for dominance in the flavor, but the fruit holds out, framed by a firm acidic structure that shows up in particular in a lingering finish. Perhaps not quite as "Bordeaux-like" as the 1995, tasted in March, but still quite a value. (May 27, 1999)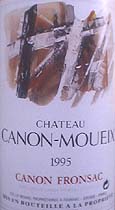 Chateau Canon-Moueix 1995 Canon-Fronsac ($21.99)
Ruby in color, with an orange glint. Fresh but somewhat closed, it shows pleasant black-fruit aromas with a distinct edge of orange peel. Fresh and simple fruit flavor, pleasant tart-cherry fruit with an undercurrent of pleasant earthiness and soft but perceptible tannins that suggest aging potential and underscore my guess that this is the French wine. Good balance and a good future, but this wine's a bit reserved right now. Needs time. U.S. importer: Seagram Chateau & Estates Wines Co., NYC. (May 27, 1999)
FOOD MATCH: Leftover lamb, the classic match with Cabernet.

Have you tasted these wines?
E-mail me your tasting notes,
and I'll consider adding them to this page.
All my wine-tasting reports are consumer-oriented. In order to maintain objectivity and avoid conflicts of interest, I purchase all the wines I rate at my own expense in retail stores.