GETTING STARTED | WINE NOTES | SEARCH SITE | DISCUSSION FORUMS | 30 SECOND WINE ADVISOR | CONTACT US
<!TODAY'S TEXT STARTS HERE!>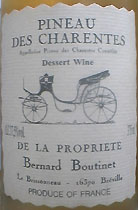 Bernard Boutinet Pineau des Charentes ($10.99/375 ml)
Alex Rychlewski introduced us to this unusual sweet wine at a sidewalk cafe in Bordeaux, and I was subsequently surprised to find it locally - frankly, I had never noticed it hiding among a local retailer's dessert wines until now. Not technically a wine but a sweet aperitif from the Cognac region of France, it is made by blending unfermented grape juice with Cognac to achieve a blend that approximates a fortified wine in alcoholic strength and sweetness. It is a clear straw color, with perfumed, vegetal and slightly woody aromas; sweet but not cloying on the palate, it offers sweet, grapey fruit with a tangy acidic zip. U.S. importer: Wines of France Inc., Mountainside, N.J.; an Alain Junguenet Selection. (May 17, 2000)
FOOD MATCH: Served as an after-dinner sipper, it went nicely with a bite of mild white Mexican farmer cheese.

Have you tasted this wine?
E-mail me your tasting notes,
and I'll consider adding them to this page.
All my wine-tasting reports are consumer-oriented. In order to maintain objectivity and avoid conflicts of interest, I purchase all the wines I rate at my own expense in retail stores.
Back to Current Tasting Notes Index