<!TODAY'S TEXT STARTS HERE!>

Summery dry pinks

Pink wine doesn't get much respect in these days when sweet, bland "blush" wines dominate the market. But with summer coming on, perhaps it's time to re-evaluate this prejudice.

Here are my notes on two decent rosé wines tasted recently that offer a good opportunity for attitude adjustment. I posted a third the other day on the California "Eye of the Toad."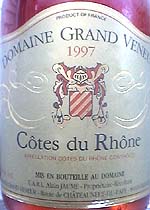 Domaine Grand Veneur 1997 Cotes du Rhone Rosé ($8.49)
Clear reddish-amber, dark for a rosé. Ripe, surprisingly full berry and herbal scents. Full and bright flavor of tart red fruit, crisp cooking apples, bone-dry and fresh. My wife, who usually hates pink wine, gives it the ultimate accolade: "Tastes like a red." U.S. importer: Kysela Pere et Fils Ltd., Winchester, Va. (May 13, 1999)
FOOD MATCH: Fine with a simple pasta dish of conchiglie with peas, spinach and ham. ("Pink wine with pink meat"?)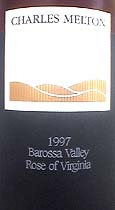 Charles Melton 1997 Barossa Valley (Australia) Rosé of Virginia ($16.99)
Clear light cherry-red in color, this Australian pink breathes delicious, fragrant strawberry and wildflower scents. A bit more shy on the palate than in the nose, it's crisp and dry, showing tart, appetizing berry fruit. Good wine, but on the pricey side. U.S. importer: Epic Wines, Aptos, Calif. (May 9, 1999)

FOOD MATCH: Works well with thick pork chops braised with rosemary and garlic.

These wines were featured in The 30 Second Wine Advisor, my free weekly E-mail bulletin of quick wine tips, advice and tasting notes. Click here to join the E-mail list!

Have you tasted these wines?
E-mail me your tasting notes,
and I'll consider adding them to this page.

All my wine-tasting reports are consumer-oriented. In order to maintain objectivity and avoid conflicts of interest, I purchase all the wines I rate at my own expense in retail stores.