<!TODAY'S TEXT STARTS HERE!>

Three '97 Chiantis under $10

Retailers in my area have been buzzing for months about the purported high quality of the '97 vintage in Tuscany, so I was pleased to see these first arrivals turn up in the local marketplace. After tasting, I'm pleased if not fully persuaded; they're ripe and fruity for sure, but I'd like to check a few more samples and perhaps a few more from the "name" makers before declaring '97 the Chianti of the Decade.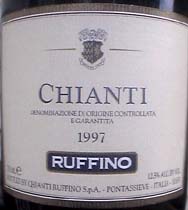 Ruffino 1997 Chianti ($9.49)
Clear, dark ruby color. Ripe cherry-berry and spice in a very pleasant aroma. Fresh fruit and tart acidity walk a tightrope in a simple, clean and fresh flavor, with a shake of black pepper to add a bit of complexity. U.S. importer: Schiffelin & Somerset Co., NYC. (May 8, 1999)
FOOD MATCH: Worked well with a simple Italian-sausage risotto.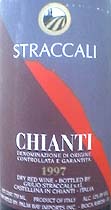 Straccali 1997 Chianti ($6.99)
Clear, dark ruby, with fresh black-cherry aromas over a hint of caramel. Juicy and tart, simple fruit and lemony acid, simple and fresh. A load of fruit, nothing too complex but very quaffable; good with food, and a good value. U.S. importer: Palm Bay Imports, Boca Raton, Fla. (May 2, 1999)
FOOD MATCH: Just right with lamb steaks braised in a mildly spicy ancho chile reduction.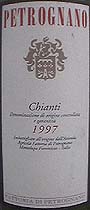 Petrognano 1997 Chianti ($9.99)
Very dark ruby with an orange glint. Light, pleasant red-fruit aromas, on the shy side. Soft, juicy fruit flavor; nice quaff, good pizza wine, but lacks the structure I associate with a good Chianti. U.S. importer: Pellegrini Brothers Wines Inc., South San Francisco, Calif. (April 24, 1999)
FOOD MATCH: Good with a homemade "gourmet" pizza with a spinach, arugula and goat-cheese topping.

Have you tasted these wines?
E-mail me your tasting notes,
and I'll consider adding them to this page.
All my wine-tasting reports are consumer-oriented. In order to maintain objectivity and avoid conflicts of interest, I purchase all the wines I rate at my own expense in retail stores.