<!TODAY'S TEXT STARTS HERE!>

A pair of Pinot Grigios

Somewhat akin to the story of Alsace in France, Italy's northeastern regions Friuli and Alto Adige, rising up into the Tyrolean Alps and adjacent to Austria (and at times in the past under Austrian dominion), sometimes seem as Germanic as they do Italian ... and this certainly manifests itself in the family names of such fully Italian wineries as Zemmer and Plozner.

We tasted these wines side-by-side the other night and found them equally interesting if quite different in style.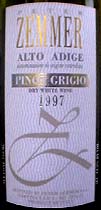 Zemmer 1997 Alto Adige Pinot Grigio ($10.99)
Clear straw color. Faint melon scent at first, warms up into distinct mineral and citrus aromas. Clean and full flavor, crisp citric fruit, whiffs of conifer aromatics as it opens in the glass. Very crisp and fresh, clean and snappy in a long finish. U.S. importer: Vin Divino Ltd., Chicago. (May 7, 1999)
FOOD MATCH: Both serve well with a simple chicken from the grill.

Plozner 1996 Friuli "Grave" Pinot Grigio ($11.99)
Clear pale gold. Full and musky aromas, ripe cantaloupe; a bit of "wet wool" appears as it warms in the glass, momentarily offputting, but it blows off quickly and, in restraint, becomes an undifferentiated "earthy" quality that adds complexity. Full-bodied, fresh muskmelon fruit flavor, big and lasting. U.S. importer: Empson (U.S.A.) Inc., Alexandria, Va. (May 7, 1999)

Have you tasted these wines?
E-mail me your tasting notes,
and I'll consider adding them to this page.
All my wine-tasting reports are consumer-oriented. In order to maintain objectivity and avoid conflicts of interest, I purchase all the wines I rate at my own expense in retail stores.