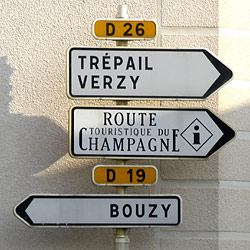 "Route Touristique du Champagne" and village signs point the way to Ambonnay's wine-growing neighbors.
Champagne (Wednesday, May 7)
I have a simple theory about "jet lag." When you arrive in Europe after an overnight flight from the U.S. in Cattle Class with kids kicking the back of your seat all the way across the pond: It's not anything fancy like a physiological response to time-zone displacement that gets you. You're just plain tired.
Accordingly, I always try to plan a simple, unchallenging agenda for my first day on the Continent, and this year's tour of France was no exception: Land at Charles de Gaulle Airport outside Paris, pick up our car (with all the paperwork handled in advance), and drive directly away from the city, planning to stop for the first night at an interesting destination within a reasonable driving distance. This time, our destination was Ambonnay, a tiny village (no more than five blocks wide) not far off the Autoroute in the Champagne region southeast of Reims.
Still sticking to the keep-the-first-day-simple principle, and with a little help from our French pal Eve in Paris, we had a reservation in advance at Auberge Saint Vincent, a pretty and hospitable small hotel and restaurant right in the middle of the village.

We followed an early check-in and a quick refreshing nap with a leisurely drive across the region's rolling fields and farmland from Ambonnay to Epernay and down to the even tinier village of Congy, where we had hoped for a visit at
Champagne Brulfert
but missed connections. It's already on my calendar to catch up next year when we join with
French Wine Explorers
again for a weeklong tour of Champagne and Burgundy on May 24-30, 2004.
Dinner at Auberge Saint Vincent in Ambonnay
We didn't know quite what to expect at a French country inn, but the dining room exceeded expectations with a comfortably formal setting, fine service, and a high-quality dinner. Not quite ready to dive into the richer shades of French cuisine so soon after our tiring flight, we both chose an option unexpected at a French village inn: A three-course vegetarian menu (29 €). Meatless save for the restaurant's amuse bouche of the evening, three fat, earthy escargots, the dinner featured a remarkably good salad (fresh field greens in a light vinaigrette garnished with thin, crunchy bites that appeared to be paper-thin leaves of cooked egg white strewn with poppy seeds); a decent pasta course ("pâte" in French) of tagliatelle rolled into a turban surrounded by tiny wild mushrooms, diced tomatoes, carrots and peas on a tart-sweet beet reduction; and a dessert of fresh fruit on shish-kebab skewers on pools of chocolate and creme anglaise with a dab of a tart fruit sherbet.
Being in Champagne, we couldn't resist glasses of an anonymous non-vintage bubbly before dinner; with the meal I chose from the list a Burgundy, Claveliere 1995 Savigny-Marconnets Savigny Premier Cru (€44). A fine if not high-end Burgundy, it was velvety and crisp, mature but not over the hill, showing a nice balance of subtle earth and Pinot Noir fruit.

France Diary 2003 Index
Next day's report
Join French Wine Explorers on a similar tour July 20-26, 2003!
Register now for our tour of Champagne and Burgundy May 24-30, 2004!
<!- Page Contents End Here ->