<!TODAY'S TEXT STARTS HERE!>

Budget Bordeaux and 3 challengers

The increasing price of Bordeaux in recent years, even through a string of so-so vintages between 1991 and 1994, has made it increasingly difficult for those of us who seek quality wines for reasonable prices to do much tasting in this category, and the arrival of a better vintage in 1995 only served to make the price issue worse.

One of my tactics in the effort to beat the system has always been to turn from the usual suspects of the Medoc and St.-Emilion to the less "desirable" districts, where values remain to be found if you pick and choose. One of my favorites for this quest is the Cotes du Bourg, a region that lies just across the Gironde River from the Medoc, and a little way downstream from St.-Emilion.

Over the past few days, I've sampled a decent, affordable Cotes du Bourg, and to make things more interesting, followed it up with Cabernet Sauvignons or Cabernet-Merlot blends from three other countries -- Argentina, the United States and Australia -- all placed a bit above the bargain basement range but still relatively affordable at $10 to $15.

I wouldn't call this a "shootout," since it wasn't done in a "blind" setting and the wines were served over several days rather than together. But it was still an interesting way to focus on the variations that locale and wine making variations can work on similar grapes.

And when all was said and done, I think I liked the Cotes du Bourg best.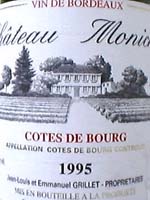 Château Monichot 1995 Cotes du Bourg ($12.99)
Dark reddish-purple. Ripe cassis and anise aromas, closed at first, open up nicely with time in the glass. Flavors follow the nose, full and bright, backed by lemony acidity and firm tannins. A good, characteristic Bordeaux at a price -- given the elevated standard of "finer" wines of the region -- that's more than fair. U.S. importer: Kysela Pere et Fils Ltd., Winchester, Va. (April 29, 1998)
FOOD MATCH: Pan-grilled strip steaks.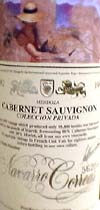 Navarro Correas 1992 Mendoza (Argentina) Cabernet Sauvignon "Coleccion Privada" ($10.99)
Very dark garnet in color. Pleasant cherry-berry fruit and oaky vanillins in the scent; full, juicy fruit with crisp acid and soft tannins on the palate. Neither Bordeaux-like nor Californian, if anything it evokes a decent Italian red. Balanced and flavorful, but I don't find much typical Cabernet character. (It's actually a blend of 80 percent Cabernet and 20 percent Merlot.) U.S. importer: Palm Bay Imports, Boca Raton, Fla. (April 30, 1998)
FOOD MATCH: Surprisingly well matched with an Egyptian style dish of chicken cooked in a sauce of tomatoes and chickpeas.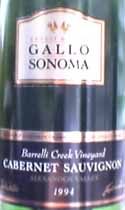 Gallo Sonoma 1994 Barrelli Creek Vineyard Alexander Valley Cabernet Sauvignon (winery sample, $18 suggested retail)
Very dark ruby, almost opaque. Blueberries and distinct "weedy dill" aromas suggesting substantial exposure to American oak. Full, extracted fruit, jammy and tart, with anise/licorice and vanilla nuances. Very "New World" in style, a bit heavy with the oak. (May 1, 1998)
FOOD MATCH: Roast leg of lamb makes a good match with the uppity fruit.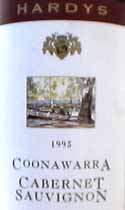 Hardy's 1993 Coonawarra (Australia) Cabernet Sauvignon ($13.99)
Dark reddish-purple. "Fruit-bomb" aromas, ripe and jammy cherry-berry fruit. Flavor consistent, but structure is lacking; it's soft and juicy, but startlingly devoid of acidity and tannins. Good quaff, but whoever set the wine at this price point ought to be ashamed. U.S. importer: International Cellars, Chantilly, Va. (May 2, 1998)
FOOD MATCH: Good quaff with Kentucky Derby buffet fare including ham and cheeses.

Have you tasted any of these wines?
E-mail me your tasting notes,
and I'll consider adding them to this page.
All my wine-tasting reports are consumer-oriented. In order to maintain objectivity and avoid conflicts of interest, I purchase all the wines I rate at my own expense in retail stores.