The Hogue Cellars 1995 Columbia Valley (Washington State) "Barrel Select" Merlot ($14.99)
Clear reddish purple. Ripe cherry and oaky vanillins add a pleasant whiff of licorice for complexity. Fresh and juicy bowl-o-fruit flavor, just enough acidity for balance although it comes across as soft with all the fruit. Good quaffing wine, although it would be a better fit in the under-$10 niche. (March 30, 1999)

FOOD MATCH: A partial success in a risky match with Kung Pao chicken with peanuts: The wine's ripe fruit is a treat with the chicken and the earthy flavors of brown bean and hoisin sauces and roasted peanuts, but the hot and spicy flavors of this fiery dish would be a problem with any wine.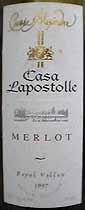 Casa Lapostolle 1997 "Cuvée Alexandre" Rapel Valley (Chile) Merlot ($19.99)
Very dark blackish-purple, almost opaque, with huge black-cherry and spicy oak aromas that almost seem to leap from the glass to fill the nose and palate. Sufficient acidity for balance, but it's definitely a "fruit bomb." Quite a wine, although at a stunning $8 jump from last year's price, it's pushing the limits on value. U.S. importer: Marnier-Lapostolle Co., NYC, distributed by Schiffelen & Somerset Co. (March 31, 1999)

FOOD MATCH: A natural partner with steaks.

These wines were featured in The 30 Second Wine Advisor, my free weekly E-mail bulletin of quick wine tips, advice and tasting notes. Click here to join the E-mail list!

Have you tasted these wines?
E-mail me your tasting notes,
and I'll consider adding them to this page.

All my wine-tasting reports are consumer-oriented. In order to maintain objectivity and avoid conflicts of interest, I purchase all the wines I rate at my own expense in retail stores.