<!TODAY'S TEXT STARTS HERE!>

Two pricey but disappointing French whites

With the rising price of premium wines, it's harder than it used to be to avoid spending $20 or more for an occasional splurge. But when I reach deep into my pockets for wine at this level, I expect to enjoy the results. Sadly, neither of these items, opened the other night for dinner guests, came up to the mark. The second was fatally flawed; the first simply boring.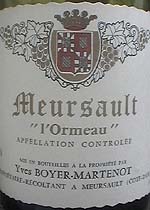 Yves Boyer-Martenot 1994 Meursault "L'Ormeau" ($19.99, marked down from $40)
When I saw this classy white Burgundy marked down to half its price, I couldn't resist, despite the instant, cynical assumption that there's no such thing as a free lunch. A clear, pale greenish-gold in color, it showed pleasant, characteristic scents of apples and rising bread dough, with a not-so-typical edge of aromatic oak. Ripe and full on the palate, it's full and seems off-dry, with a buttery oakiness that makes it seem strangely American, almost more like a California Chardonnay than French. Interesting wine, but even at the sale price, it's iffy on value. U.S. importer: Willett Distributing Co. Inc., Alexandria, Ky. (April 26, 1999)
FOOD MATCH: Satisfactory with ossobuco bianco, veal shanks braised in wine with a parsley-lemon gremolata.

Vieux Mas des Papes 1996 Chateauneuf-du-Pape Blanc ($20.99)
Clear gold in color, this white Chateauneuf (a second label of Vieux-Telegraphe) breathes exotic perfumed honey and almond aromas, with an odd, pungent edge reminiscent of an artist's studio ... linseed oil? Turpentine? The jokes go around the table, and they're not complimentary. The aromatics carry over on the palate, opening up to even more offputting earthy notes reminiscent of ripe cheese and dirty socks. Most of the wine stays in the bottle. U.S. importer: Kermit Lynch Wine Merchant, Berkeley, Calif. (April 26, 1999)

Have you tasted these wines?
E-mail me your tasting notes,
and I'll consider adding them to this page.
All my wine-tasting reports are consumer-oriented. In order to maintain objectivity and avoid conflicts of interest, I purchase all the wines I rate at my own expense in retail stores.