<!TODAY'S TEXT STARTS HERE!>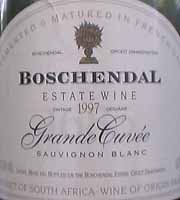 Four from South Africa

For many years when South Africa's unhappy apartheid policy prompted most Western nations to boycott the African nation's products, it was difficult or impossible for wine lovers in the United States to have much tasting experience with its wines.

But that's changing in recent years, with a growing tide of South African imports showing up on retail shelves around the world. Some of the early arrivals haven't been memorable, frankly; as South Africa's s wine industry began re-emerging in the world market, it almost seemed as if the first efforts sought to compete in the same low-end niche with many of the cheap wines coming out of the former Communist bloc in Eastern Europe.

But better products are showing up now, including the following wines we've enjoyed over the past few days. The Sauvignon Blancs seem to share the fruity, grassy character of their counterparts from New Zealand and Australia (what is it about Southern Hemisphere Sauvignon Blanc?); the Cabernet is distinctly Bordeaux-like in style, more European than New World in character; and the Pinotage, a Pinot Noir X Cinsaut cross that's rarely found outside South Africa, is, well, typical Pinotage.

Boschendal 1997 Paarl (South Africa) "Grande Cuvée" Sauvignon Blanc ($9.99)
Clear pale greenish-gold. Pleasant green-pepper scent with oak in counterpoint. Good balance between citric and grassy flavors, fresh and crisp, although the wood becomes a bit overly dominant once the wine warms in the glass. U.S. importer: American Wine Distributors Inc., San Francisco. (April 23, 1998)

FOOD MATCH: Made a particularly good "like-with-like" marriage with cooked green peppers stuffed with pork and rice.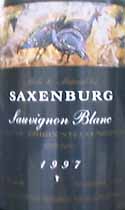 Saxenburg 1997 Stellenbosch (South Africa) Sauvignon Blanc ($7.99)
Clear straw color. Markedly grassy scent with hints of citrus. Clean, crisp and fresh, bone-dry and acidic, simple but substantially improved by an appetizing bitter-orange character in a long finish. U.S. importer: American Wine Distributors Inc., San Francisco. (April 24, 1998)
FOOD MATCH: Fine with grilled salmon.

Neil Ellis 1995 Stellenbosch (South Africa) Cabernet Sauvignon ($14.99)
Very dark garnet. Good cassis and berry aromas. Black fruit, tart acidity and soft but perceptible tannins on the palate, opens up to increasing complexity with time in the glass. Quite Bordeaux-like, structured and elegant. Excellent value for the price. U.S. importer: American Wine Distributors Inc., San Francisco. (April 25, 1998)
FOOD MATCH: A natural match with T-bones from the grill.

Clos Malverne 1996 Stellenbosch (South Africa) Pinotage ($10.99)
Inky dark garnet color. Jammy berry fruit shows through an earthy, almost "muddy" scent that's typical of Pinotage. Soft, juicy red-fruit flavors seem soft at first but gain structure with acidity becoming more evident in the finish. Good example of the grape. U.S. importer: American Wine Distributors Inc., San Francisco. (April 26, 1998)
FOOD MATCH: OK with roast chicken, but really comes into its own (earth with earth) with a side dish of braised red cabbage and onions.

Have you tasted any of these wines?
E-mail me your tasting notes,
and I'll consider adding them to this page.
All my wine-tasting reports are consumer-oriented. In order to maintain objectivity and avoid conflicts of interest, I purchase all the wines I rate at my own expense in retail stores.