<!TODAY'S TEXT STARTS HERE!>

Comparative tasting

I've found almost no better way to sharpen your palate quickly than to put two glasses of wine on the same table for a side-by-side tasting. The process of comparing and contrasting -- consciously taking written notes of the ways in which the wines are alike and in which they're different -- fixes their aromas and flavors and overall style in my memory better than any other technique.

The first pairing below matches two Chenin Blancs from opposite sides of the world in a side-by-side "shootout." The second examines an Old World and New World Barbera tasted on separate occasions.

Two Chenin Blancs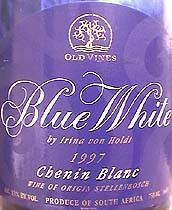 Blue White 1997 Old Vines Stellenbosch (South Africa) Chenin Blanc ($9.99)
The dark-blue glass bottle seemed a little ominous, being the kind of package that I'd instinctively associate with "industrial wine" aimed at a mass-market audience in the U.S. The contents were a revelation, however, demonstrating why South Africa has a considerable reputation for producing fine dry Chenin Blanc (a grape that the locals sometimes call "Steen"). Pale greenish-gold in color, it boasts an appetizing fresh melon scent; crisp, tart and just barely off-dry flavors follow the nose and dry out completely in a long, fresh-fruit finish. U.S. importer: Whyte Wine Corp., Indianapolis. (April 15, 1999)
Hogue Cellars 1997 Columbia Valley (Washington) Chenin Blanc ($7.49)
Pale straw color, this disappointing wine shows only the faintest scent of undifferentiated citrus fruit; soft and slight on the palate, it resembles slightly fruity sugar water. I had expected more from Hogue, usually a reliable producer of inexpensive wines of good value. (April 15, 1999)
FOOD MATCH: Shrimp with lobster sauce (not containing lobster, but shrimp stir-fried with the same chopped-pork, black-bean and egg sauce traditionally used with Lobster Cantonese) made a surprisingly good match with both of these wines, subject to the Hogue's stated limitations as a beverage of interest with or without food.

A pair of Barberas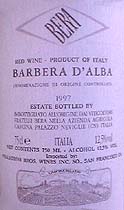 Bera 1997 Barbera d'Alba ($12.99)
Very dark reddish-purple. Plum and spice aromas, almost like a plum pudding. Full, juicy fruit, forward and jamlike, over a sturdy acidic framework. Dark fruit and spice and astringent but palatable tannins linger in a long finish. Balance and structure make it the better of the two Barberas. U.S. importer: Pellegrini Brothers Wines Inc., South San Francisco, Calif. (April 23, 1999)

FOOD MATCH: A delight with a simple, aromatic Madagascar-style chicken dish, breasts and thighs sauteed with quantities of ginger and garlic.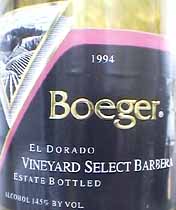 Boeger 1994 El Dorado (California) Vineyard Select Barbera ($12.99)
Inky dark garnet color. Plummey, almost pruney aromas surround attractive black fruit and spicy oak. Full, juicy fruit flavor, soft on the acid side, but fruit and oak and the warmth of unusually high (14.5%) alcohol hold it together. A rustic wine, the California offspring of Italian immigrant ancestors. (April 3, 1999)
FOOD MATCH: Fine with oven-fried chicken.

These wines and a somewhat more detailed discussion of comparative tasting were featured in The 30 Second Wine Advisor, my free weekly E-mail bulletin of quick wine tips, advice and tasting notes. Click here to join the E-mail list!

Have you tasted these wines?
E-mail me your tasting notes,
and I'll consider adding them to this page.
All my wine-tasting reports are consumer-oriented. In order to maintain objectivity and avoid conflicts of interest, I purchase all the wines I rate at my own expense in retail stores.