<!TODAY'S TEXT STARTS HERE!>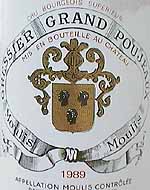 Up from the cellar

Because so much of my wine tasting focuses on new wines that I purchase from currently available retail supplies, I don't maintain much of a cellar. Most of my exposure to older, well-cellared wines comes when I'm enjoying wine with friends or at occasional tastings.

But from time to time I do like to put aside a bottle of two of good, ageworthy if not overly expensive wines, in the hope that a budget special with sufficient credentials for aging will turn into something more enjoyable than its purchase price might predict.

So to celebrate a recent birthday, we pulled out and dusted off a bottle of a modest 1989 Bordeaux (a cru bourgeois from the relatively unheralded Medoc region called Moulis) that I had kept in a safe, cool place for the past six years or so.

I'm pleased to report that, while it didn't evolve into a first growth during its slumber, it was certainly doing well, and could easily have gone on for several more years. I can't find its original purchase price in my files, but doubt that it was much over $10.

Gressier Grand Poujeaux 1989 Moulis
Inky dark garnet in color, almost opaque. Lovely cassis and sutle leathery aroma notes. Black fruit and soft tannins, surprisingly youthful, not at all "closed," though perhaps a bit thin. Plenty of life in it yet. U.S. importer: Winesellers Ltd., Skolie, Ill. (April 22, 1998)

FOOD MATCH: Fine with roast leg of lamb.

Have you tasted this particular wine?
E-mail me your tasting notes,
and I'll consider adding them to this page.

All my wine-tasting reports are consumer-oriented. In order to maintain objectivity and avoid conflicts of interest, I purchase all the wines I rate at my own expense in retail stores.