<!TODAY'S TEXT STARTS HERE!>

Cheap Cabernet: France-California "shootout"

Cabernet Sauvignon grapes command high prices from the vine to the winery, and the economics pass right down the line from vineyard to winemaker to wholesaler to retailer to consumers like us. Accordingly, the likelihood of getting quality Cabernet for a bargain-basement price seems pretty slim.

But there's always hope, so when I found a variety of new, variously colored labels for different blends of grapes in the modest Southern French line called "Jaja de Jau" -- one of them a Cabernet/Merlot blend -- I couldn't resist giving it a try.

And just to keep myself honest, I made a game out of it by randomly selecting a low-end California Cabernet of similar price to put up against the Jaja in a "blind" tasting, evaluating the wines from identical glasses poured out of my sight so I wouldn't know which wine was which.

As it turned out, it wasn't hard to tell the wines apart. Neither showed any real Cabernet quality, but at least the Jaja was a pleasant drink.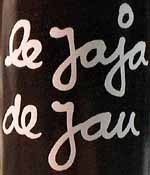 Le Jaja de Jau 1996 Cabernet/60%-Merlot/40% Vin de Pays d'Oc ($6.49)
Clear, dark reddish-purple. Jammy red-fruit aroma and a soft, fruity flavor with a prickly hint of petillance make this seem more like a Beaujolais than a Cabernet; but it's fresh and quaffable and easy to like. U.S. importer: Martin Sinkoff Wines Inc. (April 21, 1998)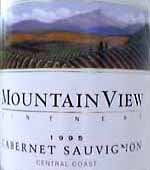 Mountain View Vintners 1995 Central Coast Cabernet Sauvignon ($6.49)
Clear ruby color. Herbaceous and oaky aromas, little fruit. Sweet-tart flavor, heavy on the oaky vanilla. An odd, unpleasant whiff of burnt rubber is initially evident on the nose and palate, suggesting excessive sulfuring; it blows off to reveal a tart, thin fluid that gives little pleasure.

FOOD MATCH: Not served with dinner. However, with bites of sharp cheddar for evaluation, the Mountain View improved somewhat -- the cheese seemed to bring up its fruit, perhaps by masking the "off" flavors -- while the Jaja de Jau made a neutral match, perhaps coming up a bit thin when tasted with the cheese.
THE LESSON: Don't expect quality Cabernet for 6 bucks, and that goes double if it's from California.
Have you tasted these particular wines?
E-mail me your tasting notes,
and I'll consider adding them to this page.
All my wine-tasting reports are consumer-oriented. In order to maintain objectivity and avoid conflicts of interest, I purchase all the wines I rate at my own expense in retail stores.