<!TODAY'S TEXT STARTS HERE!>

'Cru' Beaujolais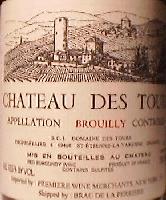 Think of Beaujolais ... then think again, and consider the cru Beaujolais, the product of 10 villages whose wines are considered so exceptional that they carry the village name instead of the regional moniker. Delicious fresh, they can also carry a little age (although I remain less than convinced of the conventional wisdom that they actually transform into something like Burgundy with enough time in the cellar.)

The cru villages are Brouilly, Chénas, Chiroubles, Côte de Brouilly, Fleurie, Juliénas, Morgon, Moulin-a-Vent, Saint-Amour, and the most recent designee, Régnié. I don't spend a lot of time trying to tweak out the very subtle differences among them, but one thing's certain: A Brouilly will usually turn my head. This one's unusual, at least in the U.S., in that it's not from the ubiquitous Georges Duboeuf.

Chateau des Tours 1996 Brouilly ($12.99)
Dark garnet color. Delicious spicy raspberry scent leads into a full and fresh flavor, almost like eating a bowl of fresh, juicy berries, with lemony tartness to give it balance. Clean and consistent in a long finish, with the structure to suggest at least moderate aging potential. Definitely my kind of Beaujolais. U.S. importer: Premiere Wine Merchants, NYC. (April 18, 1998)

FOOD MATCH: Excellent with Marcella Hazan's pork roast with juniper berries and rosemary; the play of aromatics between the wine and the entree make an exceptionally happy marriage.

All my wine-tasting reports are consumer-oriented. In order to maintain objectivity and avoid conflicts of interest, I purchase all the wines I rate at my own expense in retail stores.